When I worked at the insurance company, someone from the office where supplies were inventoried, would send an email near the end of the year reminding us to order our planners for the next year.
I had forgotten all about that, until I began shopping for a planner for myself for 2016.
In my mind, I'm not a planner person. I don't like structure. I don't like being told what to do, or when, or how. At least, that's what I've been telling myself. A more accurate explanation is probably that there are certain people from whom I'd rather not take instruction, and there are certain processes that don't sit well with me. But, that's a deeper issue than simply saying, "I'm not a planner person," isn't it?
Near the end of 2015, I got the notion that I should probably get something in which to write appointments, ideas, upcoming events, and stuff like that. I didn't want to have the experience of planning to go to yoga one night and then suddenly remembering I was supposed to be at a different event, across town, delivering a keynote address to a room full of women. Not that that actually happened. Ahem.
I do use my iPhone to keep track of my schedule, but I'm not always around when the alarm goes off, reminding me I have to be somewhere. Sometimes, I feel as if I need a backup plan. And, there's something about actually writing down—with pen and paper— an appointment or to-do that helps that particular something lodge itself in my memory bank. In fact, science backs this up.
Virginia Berninger, a professor of educational psychology at the University of Washington, says handwriting differs from typing because it requires executing sequential strokes to form a letter, whereas keyboarding involves selecting a whole letter by touching a key.

She says pictures of the brain have illustrated that sequential finger movements activated massive regions involved in thinking, language and working memory—the system for temporarily storing and managing information.
If you're like me, you may be resistant to the whole idea of building structure into your day. You may like the feeling of being the master of your own fate and the captain of your soul. But the truth is, we can be in charge of the structure we build into our very own days. And, let's be honest, we all need at least a little bit of structure.
My friend Deana is a self-described free spirit. When someone begins talking about structure and planning and checklists, Deana tells me her inner rebel begins to rise up in resistance. But, what Deana discovered, and shared with me one afternoon over lunch, is that having a plan is like building the framework for a house. If there's no frame, there's no place to attach the walls and windows and floors and plumbing and electrical lines and roof.
We don't have to build an entire house when we start working on a plan. We can start with the framework, or the foundation, and go from there.
Last week, I encouraged you to spend some time with Tsh Oxenreider's list of 20 Questions for a New Year's Eve Reflection (it's not too late, even though the new year has already begun). One of the questions Tsh asks is this: What was your single biggest time waster in your life this past year? Now, I'm all for free, unscheduled time in which to catch my breath and stare out the window. Those are the times that serve me the most. But, that's not the same as wasted time. When there's no framework for our days, the winds blow our time right across the plot of land on which we've staked our dream, or career, or ministry, and we look at the clock and realize we've spent the entire afternoon on Pinterest or BuzzFeed or Facebook, or in front of the television, with nothing to show for it.
Now, don't get me wrong. The pendulum can swing too far in the other direction, too. We can stake so much of our identity in our accomplishments that we stress ourselves out by piling too much into one day and expecting far too much of our one heart, mind, soul, and strength. Trial and error is the remedy for striking the proper balance and, grace and flexibility are the mentors. Over time, we find the right measure of planning and list-making.
So, I bought a planner. I actually bought two. I asked for some advice about my planner purchase, and discovered there are some real, ride-or-die planner people. There are planner Facebook groups for people who love to write things down in their planners. I'm not sure I'll ever be a planner Facebook group person, but I'm also aware that one should "never say never." In the end, after doing tons of research, I bought this Nicole Miller planner at Office Depot. I wrote a couple of speaking engagements in it, and then, one afternoon when I was at Target, I stumbled on this planner by Sugar Paper. It was calling my name from the end cap in the stationary aisle. It's the one I'm using, to write just a few notes to myself about what to focus on, what to remember, and what to enjoy each day. Now, my iPhone is my backup plan, and my planner is my first order of defense against feeling like I'm spinning my wheels.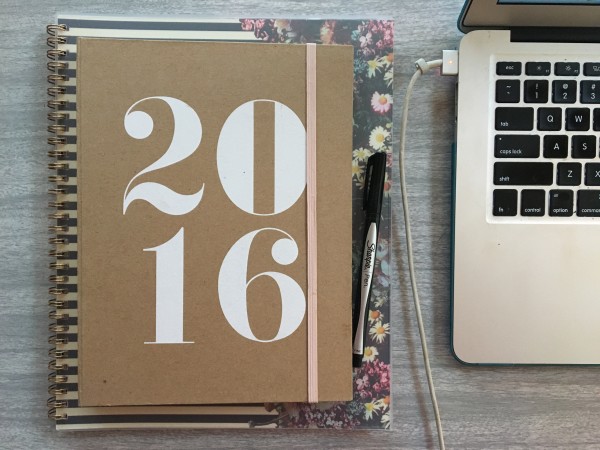 In the first week, I over-planned for myself. The fact that I didn't accomplish half the stuff in my planner was almost a source of  a major failure complex. But, what I realized, instead, is that—planner or not—I'm still the same person, and I'm only going to do so much in one day. I have my limits.
So, I adjusted my expectations. I've written down places I need to be—like a meeting on Monday morning that can't be missed. And, I've written in opportunities—like Zumba on Wednesday night. I've also written in writing deadlines, and topics for blog posts. And not one page of my planner feels restrictive. Not at all. Instead, it feels more like a compass, reminding me where to focus my attention, in a world where there is so much to keep me paralyzed with trying to make a decision about which way to go.
Writing things down, with pen and paper, reminded me how much a planner kept me on track in my life at the insurance company. Each day, I cleared something off my plate, and crossed things off that little rectangle on my planner. And, I had a sure idea of what I wanted to focus on the next day, too.
Having a planner doesn't keep me from being a free spirit. Like Deana, my inner rebel will still rise up when people try to put too many restrictions or expectations on me. Maybe that will change, over time. Maybe not. I imagine I can trust God to continue to shape my character in the way that works best for him. That's not something I can schedule. But, I can make sure my focus is where it needs to be, so I'm available for the work he desires to do—in me, to me, and through me.
So, tell me your planner stories. Are you a planner person? What planner do you use, and why? If you're not a planner person, do you use a different system that works well for you? Do you have an inner rebel? What does she say to you?