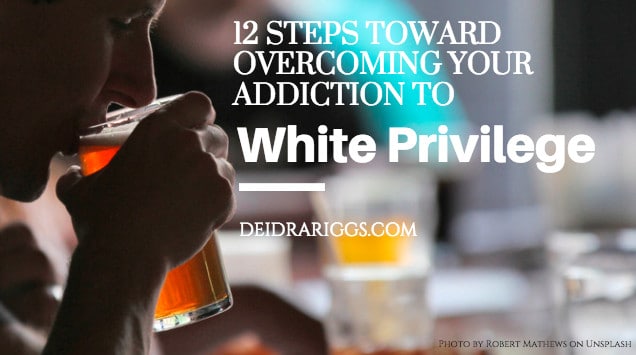 If you're unclear about what White Privilege is, you might want to take a peek here. (The link will redirect to a five minute video. While it's not a perfect description, many people have affirmed that the video helps them better understand the general concept of privilege.)
Is the Language of White Privilege Helpful?
It's one thing to talk about privilege, but when we add the word "white" before it, people start to come unglued. In 2017, a radio station contacted me to see if I would be willing to participate in a show called, "Up For Debate." The topic of discussion was this: Is the Language of White Privilege Helpful?
I squirmed at the invitation. I don't think it's possible to cover this topic in a one-hour radio broadcast, or even in a blog post. And, the idea of "debating" white privilege was not my cup of tea, either. Lisa Sharon Harper was the other confirmed guest on the show. I have a ton of respect for Lisa, but she and I had never met. I wasn't even sure she knew anything about me, and — for so many reasons — I did not want our first interaction to be labeled a debate.
I shared my concerns with the producer and we talked at length about what they hoped to achieve as a result of the broadcast, why they had chosen this topic, and the format of the show — especially the concept of a debate. At the end of the conversation, I bowed out, offering a list of others who might be willing to participate. "If those people don't work out, let me know," I said, and I committed to pray and consult with Harry and a few friends in the meantime.
Days later, the producer called me back, saying none of the other people had worked out, for various reasons, and would I please reconsider. We talked at length again, and I asked if I could have twenty-four hours to decide. In the end, I agreed to do the show, and you can listen to it, here. I think the show still sets up Lisa and me as being in two different camps with regard to White Privilege, but I hope, through the conversation, you can hear something different.
White Privilege is real. If you can't quite see that yet, you will probably take issue with what follows. I get that. Feel free to click away now, or stay engaged and ask any questions you might have in the comment section.
There is a difference between privilege and White Privilege, but I'm specifically speaking here about White Privilege.
In my book, ONE: Unity in a Divided World
, I write about how I wish I could say, Here are the twelve steps you can check off to end racism in America, but I can't. I still believe that to be true. There is no easy fix for our current condition. However, there are foundational underpinnings which secure racism's grip on our perspectives, our world views, our values, our ethics, our morality, our faith systems, and our systems of government. White privilege is one of these foundational underpinnings, and White Privilege is continually sustained through White Fragility.
To read further, I am assuming you've come to terms with White Fragility. If you are a white person reading this, I am assuming you have chosen not to let White Fragility control you so that, instead, you might reckon with the truths of racism and white complicity in it.
Let's Be Clear About Reverse Racism
This is probably a good place to state there is no such thing as reverse racism. To even make the claim of reverse racism is to center white culture, as if everyone who has ever spoken of racism believes racism can only be practiced by people who are white, and anyone else who practices racism does so in an entirely different realm from white people. Racism is racism, no matter who practices it, who benefits from it, or who suffers as a result (which, in the final analysis, is everyone).
My focus today is on White Privilege which, as I've stated above, is a foundational underpinning keeping racism alive. There are other foundational underpinnings, but we aren't talking about those today. If we truly want to reverse racism, one essential action to be taken is that white people must recognize, confront, and dismantle White Privilege. It's not the only action to be taken, but it's the one we are talking about today.
White Privilege is an addiction and can only be remedied when those who are afflicted decide to take control of their addiction.
Living With Addiction
If you're like me, you either live with an addiction, you love someone who lives with addiction, or both. Not many of us live untouched by addiction. We know how difficult it can be to recover from an addictive illness. We know how dark, pernicious, stealthy, and pervasive addiction can be. We've witnessed its destructive abilities first-hand.
White Privilege is just like this. To be white in America is to have been born addicted, in the same way babies are born addicted to opiates. It's nothing you've done on your own. It's not necessarily your fault. you did not choose it; not at first. White Privilege has been bequeathed to you.
Like any addiction, I imagine White Privilege feels good at first. It numbs parts of you. It takes the edge off. You don't even realize it's got you in its grasp until it's too late. "I can quit if I want," you say to yourself. "I don't need it," you reason. "I don't have a problem," you say on social media, or to the talking heads on the evening news.
Those of us who love you — people of color, mostly — try interventions, we try reasoning with you, we try cutting you off, we try taking you in, we shout and we riot and we yell and we cry and we point our fingers at you, we shrug our shoulders, we give up on you. We are out of options and you are so far gone. Acknowledging the gravity of your situation is too painful, and so you numb all over again and shut us out with a wave of your hand, an angry comment, a promise to do better, a shifting of blame, a weak apology, a patronizing remark, a click of the "unfriend" button.
Only you can fix this particular addiction. So we wait for you to be ready to deal with your addiction and we pray you don't die in the process; and the whole time we live with the collateral damage of your addiction: the lies, the stealing, the long days and months and years where we don't hear from you at all, the glassy eyes and shifty nature, the hope crushed once again, the slaps across the mouth and so much more. We are battered and bruised, hurt and hate-filled (which is a topic for a different day), jaded and juked, untrusting and undone.
Addiction makes a mess of us all.
Where to Begin?
We have all heard the first step to overcoming an addiction is to admit you have a problem. I hate admitting I have a problem — about anything. I hate to be wrong. I hate to be seen as weak. I hate being helpless. Maybe you do, to. But, until white America owns up to White Privilege, we are stuck. There are other things other parts of America needs to own up to in order for us to get unstuck, but those things aren't the topic for today.
Overcoming addiction is difficult work. There are almost as many steps backwards as there are steps forward in the process. It's a moment-by-moment task to overcome addiction, and it is accomplished one step at a time.
Perhaps you're familiar with the Twelve Steps to Recovery for those addicted to alcohol. These twelve steps form an excellent framework for pulling ourselves out of our addictions. With just a few tweaks, the twelve steps can be used to confront addiction to White Privilege, as well. No system is perfect, but working these twelve steps can be helpful:
Step 1: We admitted we were powerless over our addiction to White Privilege—that our lives had become unmanageable.
Step 2: Came to believe that a Power greater than ourselves could restore us to sanity.
Step 3: Made a decision to turn our will and our lives over to the care of God as we understood God.
Step 4: Made a searching and fearless moral inventory of ourselves.
Step 5: Admitted to God, to ourselves, and to another human being the exact nature of our wrongs.
Step 6: Were entirely ready to have God remove all these defects of character.
Step 7: Humbly asked God to remove our shortcomings.
Step 8: Made a list of all persons we had harmed, and became willing to make amends to them all.
Step 9: Made direct amends to such people wherever possible, except when to do so would injure them or others.
Step 10: Continued to take personal inventory and when we were wrong promptly admitted it.
Step 11: Sought through prayer and meditation to improve our conscious contact with God, as we understood God, praying only for knowledge of God's will for us and the power to carry that out.
Step 12: Having had a spiritual awakening as the result of these Steps, we tried to carry this message to others addicted to White Privilege, and to practice these principles in all our affairs.
To learn more about the Twelve Steps, including how to practice them and why, consider this resource, as well.
Both/And
White Privilege has been ingrained in American culture since Christopher Columbus landed on her shores and mistook the land and her people as a thing to be conquered. If you were born white in America, White Privilege is part of your DNA.
White Privilege does not negate the struggles of white people who find themselves marginalized because of poverty, illness, disability, sexual orientation, criminal history, limited education, etc. Those struggles are real and should never be minimized or nullified. White Privilege, though seemingly imperceptible in the face of some of these struggles, co-exists with other realities of the human condition.
We don't say, "He's poor, so he can't be addicted to opiates. It must be something else." Nor do we say, "She only has a fifth-grade education, so she can't be an alcoholic." A person can be both poor and addicted to opiates; poorly educated and an alcoholic.  We work to remedy both.
Similarly, a person can say, "I've never owned slaves," or "I love everyone," or "If we would all turn to God, all of this would be fixed," or "I don't see color," and be a benefactor and perpetuator of White Privilege.
We must each take responsibility where necessary. We must work toward healing and wholeness in all things in order to diminish the collateral damage inflicted on others and the harm done to ourselves. For white people this starts by admitting your powerlessness over your addiction to White Privilege, and acknowledging the ways in which your life has become unmanageable as a result.
Photo by Robert Mathews on Unsplash