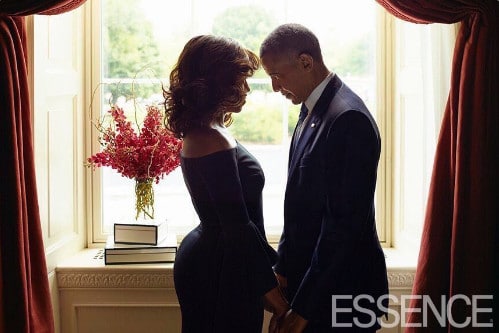 In a drawer, I have a picture of myself in a hot pink bikini. When the picture was taken, I was in my very late twenties or very early thirties, and I'd had two children. This was back when there was no such thing as a smartphone. Back then, you took your pictures, cranked the film forward in the camera and, when the very last image had been shot, you opened the camera, took out the film and dropped it off at Walgreen's (they've been around forever). Then, you waited a few days to see the pictures you took on your vacation to Mexico when you dared to put your post-baby body in a hot pink bikini and go out in public like that.
On the day the photo of me in the hot pink bikini came back in the envelope from Walgreen's, I took one look at it and declared myself fat. "My thighs!" "My butt!" "My hips!" Too much junk in the trunk, I determined (or something like that—I'm not sure "junk in the trunk" was a thing, yet).
Over the years, I have fought a losing battle against my derrière, despite the fact that she has been nothing but good to me. I overlooked her goodness, in favor of what seemed fashionable. I did whatever I could to camouflage the area between my waist and my knees, confident what was there was shameful. Not even my husband's lovely words of encouragement and praise (yes, praise!) could sway me from declaring my posterior the bane of my existence.
Oh, I've seen the trends toward greater acceptance of curvy shapes like mine. I, perhaps like you, have mad respect for the likes of Ashley, Serena, Beyoncè and others who embrace and even celebrate their curves. But, I have watched the reactions, too. Ashley has been publicly shamed for her shape and size. Serena has had to volley hateful comments about her form for as long as I can remember. Beyoncè "needs to put on pants," according to many commenters (which, by the way, always makes me wonder, "Why? Other artists and athletes consistently wear fewer clothes on stage or while competing, than Beyoncè.").
I've watched these women strut their stuff as if they didn't care what anyone had to say about how they strut and I have known I could never be as confident as them. I'll defend them with my dying breath, I've promised myself on the inside, but I could never be so bold. The picture of me in the hot pink bikini stayed in the drawer. Until…
Breaking Free
Three things have happened recently:
I've crossed over into my fifties. Hear me when I tell you fifty equals freedom. I kid you not. I look around at you women in your twenties and thirties and forties, and you are all so much more free than we were. Seeing how free you are now makes me chuckle on the inside because the world has no idea what she is in for. When you all start crossing over into your fifth decade, we are in for a glorious ride, and I cannot wait. The older I've gotten, the bigger my hips and thighs and behind have grown. My doctor is not at all concerned and, the older I've gotten the less concerned I've become. And when I tell you my husband doesn't mind, at all, you'll just have to take my word for it. I love this body. She is beautiful, and she has been very good to me.
I posted a picture on Instagram of me in a bathing suit. I debated. I really did. But I kept scrolling through those photos and, every time, I stopped at the picture of me in the navy blue suit that I bought for twelve dollars at Marshalls. On clearance. I thought about modesty and wondered if my picture might offend or embarrass someone. I asked H who said with a grin, "That was my favorite suit on you." I hesitated, because I know how people talk and, honestly, I'd rather not be the root of that kind of conversation. But, when I look at that picture, what I see is truly me. And the me I see? She is free. More than anything, I want other women and men to see that freedom and to let that be the catalyst for celebrating our very own beautiful bodies, exactly as they are. Not as objects, but as works of art. Admirable and wonderfully made.
Barack and Michelle Obama in Essence magazine. The first time I saw the picture, I saw the very same curves I see on myself when I turn sideways and look in the mirror. And this is the First Lady of the United States of America. There really are no words to convey exactly how this picture speaks to me and, I imagine, to so many of us who are caretakers of that particular curve at the base of our spines and the beautiful contour beneath. I imagine Barack and Michelle receiving the proofs from the editors at Essence and, sitting around with their team, trying to determine which pictures to release to the world, and which to keep to themselves. Maybe Michelle looked at Barack with her hand on this particular picture and said, "What do you think about this one?" And perhaps he responded, "I love the way you look in that dress," which would have sealed the deal, if it were me. It's a calculated risk, but a risk just the same. Because people talk. But, more than that, people also need to be set free from being embarrassed by, and at war with their bodies and its very particular curves and lines and ways of inhabiting space in this world.
Let's pause here to make a quick observation, because some of us might be considering the elements of "elegance" and "class" with regard to this conversation. But, I think, perhaps, there's a deeper message of subjectivity there. So, let me encourage grace as we think and talk this through together. It's freedom we're after, and the key to my freedom may not be the same as someone else's, you know?
When I saw this picture of Barack and Michelle, I grabbed my phone and pulled up the picture of me on Instagram, in my twelve dollar suit from Marshall's and I "liked" my very own photo. Then, I went to my drawer and found the photo of me in the hot pink bikini, so I could set her free, too.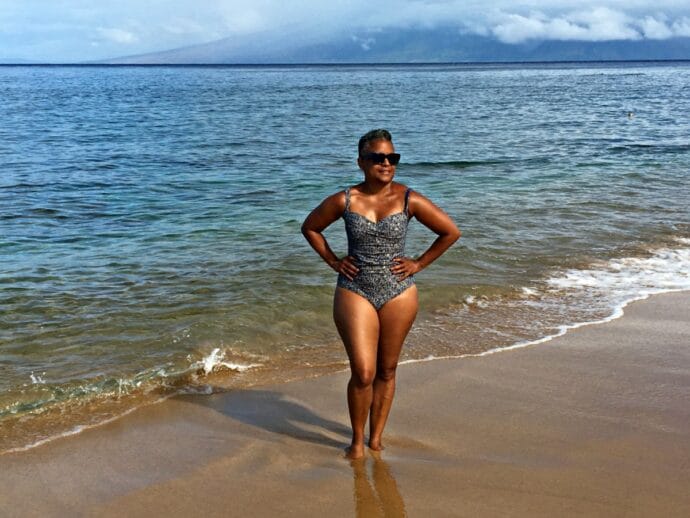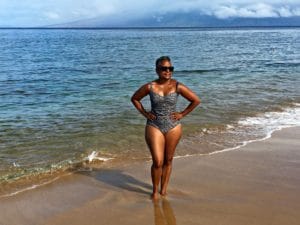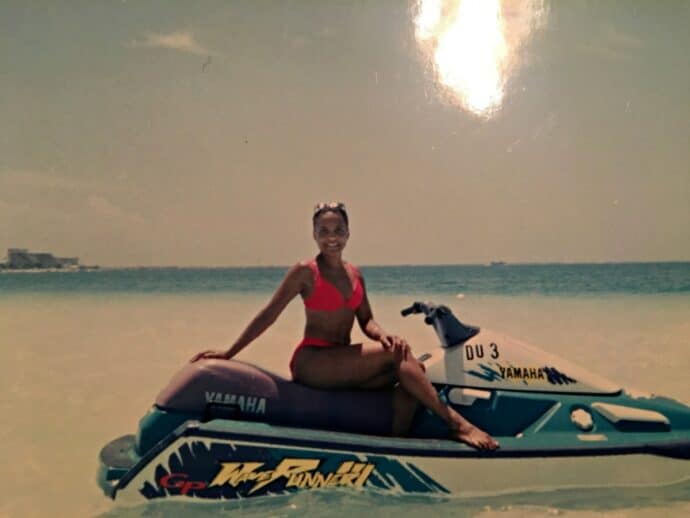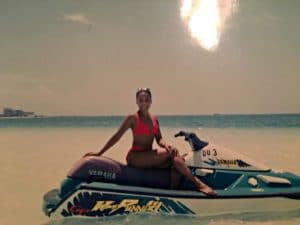 Some questions for you: What part/s of yourself have you been fighting with, and why? How free do you feel? How free do you want to be? How much does the "talk" of others influence your ability to be free?