Last week, I invited you to search for silence in your world. Were you able to find it? Did it find you?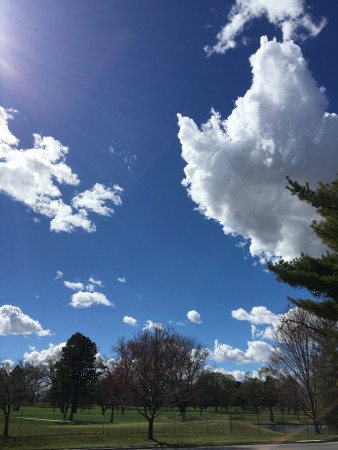 I try, each afternoon, to take a walk around the golf course in a nearby neighborhood. The walk usually takes me about an hour and, in that time, I cover about three miles and one podcast. This daily walk is good for my body, but it's also a gift to my mind and my soul. The older I get, the more I notice my desire to be outside, in the fresh air and sunshine. And this year, I realized I probably like walking outside in the winter more than in the summer. The cold air takes me back to our vacation in Germany, with its fine mist of snow and crinkly air.
Lately, on my walks, I've had a sense of agitation that rested just below the surface of my skin. The walking was good and the sunshine and fresh air coaxed me out of my jacket and expanded my lungs. But, something was off. I couldn't quite figure it out until this article in the Huffington Post, found its way to me and reminded me, once again, of the benefits of silence.
What I realized is that, while my body was hitting the reset button during those afternoon walks, the podcasts I had been piping into my ears were keeping my mind far too busy and, as it turns out, a busy mind was blocking the reset button to my soul. I took the earbuds out of my ears and I've been walking in (relative) silence, ever since.
Of course, there are still the sounds of nature and of the neighborhoods and of life in general. But, rather than having to process those sounds the same way I process a podcast, I can simply observe those sounds and allow them to pass over and through and around me. I can choose to stop and pay attention to the cardinal in the branches overhead, while releasing the sounds of a jet-fueled airplane soaring by. I can choose the sounds which will soothe and heal my soul while letting my brain take a break, even if just for an hour. And, as it turns out, giving my brain a break might actually be making it stronger, after all.
Some questions for you: How much silence did you experience last week? What differences did you notice in your body, mind, and soul, as a result of spending time in silence? When you read the Huffington Post article, which benefits of silence were most appealing to you?