My husband is a ski fanatic. I write. He skis.
When I met him, if I was going to spend any time with him during Michigan's long winters, skiing was something I was going to have to embrace—and not just from the fireplace in the ski lodge with a mug of hot chocolate in my hand.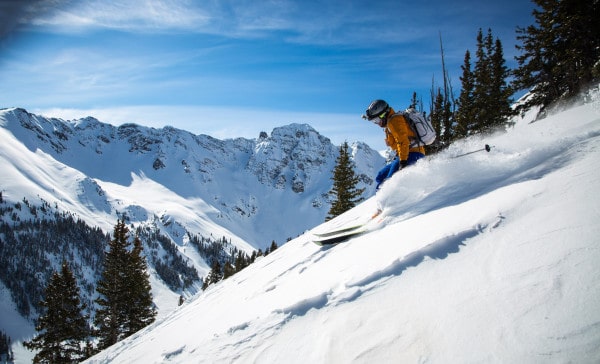 Harry taught me to ski. It seriously must have been love. I am a beach girl. I like my water warm and blue, with waves in it. He likes his water frozen. The colder the better. He likes the bumps and all the black diamonds available. Saying it was a whole new world for me is an understatement. But somehow, I remember borrowing his mom's one-piece, turquoise colored ski suit, along with her skis and boots and poles, and making my way to the ski hill on a blustery, frigid night.
He was a good teacher and I have made my way down many a ski hill. I have mastered the chair lift. I can make wide turns. I am not a fan of skiing, though. There's a picture of me, taken a few years after that first night on the ski hill. I am wearing that same, turquoise ski suit and I'm right in the middle of a turn. At the time that picture was taken, H and I had been married for just over a year, and I was pregnant with our very first child.
The next time I would go skiing—much to H's disappointment—was two years ago in Colorado. Now, when we go on our ski trips, I enjoy time in the ski lodge, right by the fire pit, drinking hot chocolate.
All of these years, Harry has loved skiing. No matter where we've lived, he has made his way to a mountain, by hook or by crook. It is in his blood. He is a ski fanatic. And, he has been dreaming of becoming a professional ski instructor.
Late last year, he logged onto the Internet to figure out his annual ski trip. On a whim, he checked into the little ski hill just about an hour from our home, in Iowa. When the website opened, a banner announced they were looking for ski instructors. Still on a whim, Harry filled out an application and, one hour later, the manager of the ski hill contacted him to invite him out to teach. And so, every Friday and Saturday this winter, H has driven one hour up and back and he has been teaching skiing, as an amateur instructor, at that little hill in Iowa.
If you're a skier, you might be familiar with Warren Miller. Warren Miller creates ski films. His films feature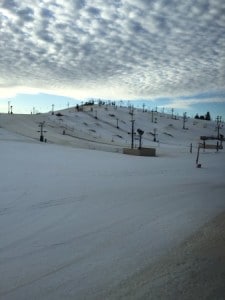 magnificent landscapes and talented skiers making their way through pristine powder and sailing over snow-capped mountain peaks. Many of the skiers in these films are daredevils. Many are regular people, taking a week of vacation at a ski resort, or spending the afternoon with their kids at the local ski hill. They are lovers of the sport. They push the edges of their own personal risk envelopes, whether that means landing by helicopter on the top of a mountain that's never been skied before, or simply making it off the chair lift for the very first time. Warren Miller narrates each film and, as images of people trying something new on the slopes appear on the screen, Miller will encourage the viewer to try something new. "If you don't do it now," he says, "you'll just be one year older when you do." It's one of the things Harry likes to say, whenever he's trying to decide whether or not to chart a new course, follow a dream, or test a theory.
And so, last November, Harry registered to take the test to become a professional ski instructor. He studied fastidiously. He logged his hours. He read. He made flash cards. He worked really hard. And then, last Thursday, we packed the car and we drove thirteen hours to Michigan so he could take the test on the hill where he'd first learned to ski.
He was nervous. I was confident. He was cautious about making predictions. I told him he was going to pass without the slightest bit of trouble. The testing took two days and, in the end, he walked away with a certificate and a pin, and the title of Professional Ski Instructor.
I could not be more proud of him.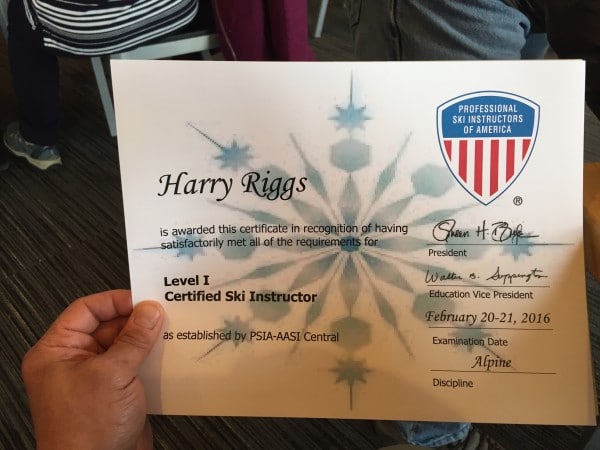 I know the idea of following your dreams often gets a bad rap. I know people think it's sometimes foolish to go after some things. Sometimes, those people make me rethink the whole follow your dreams thing. But, I always end up right back in the same place. I honestly believe God gives us the desires of our hearts. Not in some kind of "name it and claim it" theology. And, certainly not in a way that promises life will be a bed of roses.
But, if you've got something stirring in your heart, and it keeps agitating your hope and making it rise to the surface, I say pay attention to that thing. Keep offering that thing up to God. Live fully in the season where you find yourself right now and trust that God holds your future in his hands. Be responsible. Pay your bills. Treat people kindly. And please, make space for your dreams, and for the dreams of those around you.
We get one life. This world only gets one you.
You've heard all the prompts before. The ones that sound like, "If you could do anything and you knew you wouldn't fail, what would it be?" or "What's on your bucket list?" or "What do you want to be when you grow up?" Look around you. The world is short on dreamers right now, is it not? We've got fear and anger and name-calling and finger-pointed elevated to an art. But dreaming? Wouldn't that be something, huh?
H isn't going to stop being a pastor. Not anytime soon. Some day, he'll begin studying for the next level of instructor certification. In the meantime, he'll preach, he'll ski, and he'll keep dreaming and planning and paying the bills and treating people well. But this was his moment. He took it. And it was worth it.
Some questions for you: Tell me the thing that stirs your heart. What would happen if you gave it more space? What are the dreams of the people you love?