You don't need Sunday school flannel-board illustrations of the prodigal son to know how the parable unfolds. It's a story as old as time itself.
A precocious child asks his father for an early inheritance. The father obliges, and the son tromps off with the money. The son doesn't call. He doesn't write. He doesn't visit home for the holidays.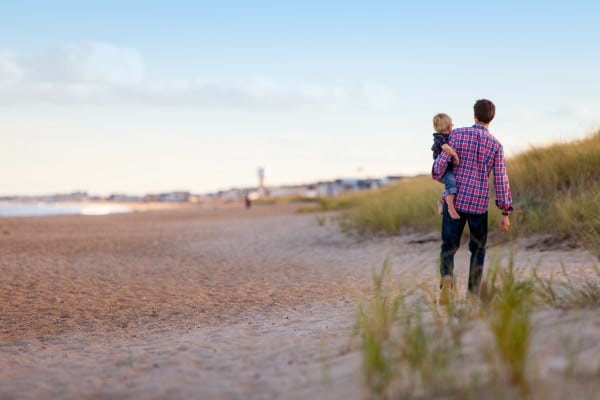 Instead, the son spends his dad's hard-earned money on things that would shame his dad, eventually running out of both cash and dignity. With nowhere to turn, the son makes his way home to his father, fully prepared to live as a servant, rather than a son. But the father is waiting, as good fathers tend to do. Heartbroken, for sure, and saddened by his son's absence, the father stands at the end of the road and from that vantage point, he is able to see his son returning home, from quite a distance away.
In the time between the son's departure and subsequent return, perhaps the father worked his way through deep feelings of grief. Maybe he made his way through anger and disappointment and found his way to love. No matter how he got there, such was the state of his heart when his son returned: full of love, grateful to know his son was safe, and moved to delightful embrace of the one who had been lost but now was found.
The story of the prodigal son points us to the larger story of God reconciling us to himself.
From the moment Adam and Eve fell for the serpent's trick and did what God told them not to do, God has been working our way back to him. We get confused and think it's us working our way back to God, but that could not be further from the truth.
The life, death, and resurrection of Jesus Christ is God's work of reconciliation. He knows we might not take him up on the offer, but God still takes up his post at the end of that road, craning his neck in hopeful expectation that we will return to him on the road he paved for us.
The Bible tells us the father saw his son coming from a long way off. Often, we feel that distance, as if people—and reconciliation—are a long way off. But God challenges us to move toward those whom we consider to be so very far off the mark, even when we've been offended by those very same people.
Sometimes, especially when we're the ones who've been offended, the only move we can muster is to talk to God about why we can't move. That's a fine place to begin. God can work with that. Reconciliation can grow from there. The greater the offense, the longer it may take. But reconciliation is the entire story of God's love and work, and that means it is always possible.
Over time, beyond reason and in defiance of all logic, you may find yourself standing at the end of some particular road, a figure approaching you from a long way off.
Move toward them, with open eyes, an open heart, and open arms. This, this movement toward the precocious and offensive one making their way home, is the very hard work of reconciliation. And, when we're honest in the quiet moments all alone, aren't we all just trying to get home?
Some questions for you: Who are the people in your life that seem a long way off? Are you hopeful that reconciliation is possible, or have you given up? Are you willing to move toward them in celebration? Why or why not? What would you have to sacrifice in order for reconciliation to happen?