Stitch Fix and Trunk Club for Women are two services that deliver clothes to your front door. It's like having a personal clothes shopper.
A few years ago, I opened an account with Stitch Fix and I've had a few deliveries, called "Fixes" sent my way. It's fun to have that box arrive at your front door and then take a few days to try things on and figure out what works and what doesn't.
About a year ago, my husband heard about the Trunk Club. It was like Stitch Fix, but for men. He signed up, ordered a trunk, and got to enjoy the experience of having a box of fun clothes arrive at the front door.
When the Trunk Club got started, it was just for men but, last year, they opened up their services to women. I'd had some concerns about my Stitch Fix experience (which I'll tell you about in a minute) so, when H found out about Trunk Club for Women, he encouraged me to give them a try.
I thought long and hard about whether or not to take him up that offer. No I didn't. I sat right down at my computer and opened my own Trunk Club for Women account. Then, I thought it might be fun to compare Stitch Fix with Trunk Club for Women, so I opened another tab on my computer and ordered a Fix.
Whether you choose Stitch Fix or Trunk Club for Women (or both), it's important to take the time to set up a detailed profile. Allow 30-60 minutes to set up each profile. It sounds like a lot of time, but remember, you'll be doing this from the comfort of your own home instead of having to make a trip to the mall and confront those dressing room mirrors and lights. Measure what needs measuring. Be honest about your height and your weight. If you have favorite manufacturers or designers, be sure to mention them by name. Ideally, share a link to a style board on Pinterest if you have one. Here's mine. If ethical clothing brands are important to you, be sure to share that information as well. And, check out these additional tips from Stitch Fix.
One thing I really like about Trunk Club for Women is that you're assigned a stylist, and you talk to that stylist on the telephone. I'm not a big telephone person. But when I set up my phone call with Gretchen, I planned it for when I was shopping at HomeGoods with my daughter. Gretchen was cool with that, and it was fun to have her along on my shopping trip. The phone call took about thirty minutes and it was well worth it!
Gretchen asked me about my style, my body shape, my work, and more. Most importantly, I was able to tell her some of the specific challenges I have with clothing, now that my body is fifty-one years old. This is where I have struggled the most with Stitch Fix. Most of the clothes Stitch Fix sent me seemed designed for younger women. I'm going to write a different post about our bodies and how they change over the years, and why this is a good thing. But for now, suffice it to say, I need clothes for a body that's been around the sun a few more times than my younger sisters' bodies. I've heard this same concern about Stitch Fix from other women my age, so it bears repeating that you should take the time to communicate the specific needs for your body when setting up your profile and talking with your stylist.
Before my trunk arrived, I received an email from Gretchen. The email detailed every item in the trunk she was planning to send me. It included photos and pricing for each item. I had about twenty-four hours to decline or accept the items before the trunk was shipped. In that time, I was also encouraged to request specific items that weren't already included in the order. This ability to see what's being shipped—and choose to decline an item—before it's sent is one of my favorite features.
With Stitch Fix, you have a different stylist each time you schedule a fix. On a couple of occasions, I've asked to talk directly with my stylist, but I was told that's not possible. Granted, it has been a while since I've asked for a direct conversation, so things may have changed. But, it was disappointing not to be able to make that connection. With this in mind, when I scheduled this last Fix, I went into excruciating detail when I placed my order. Once you schedule your Fix, you'll see a message on your screen that looks like this:
When I scheduled my last Fix, I used this box the same way I'd used my phone conversation with Gretchen. I told them I've gained five to ten pounds, mostly in my hips, and I told them exactly what I needed, including jeans, a motorcycle jacket, a striped shirt (I even specified the colors of the stripes), and a dress that Viola Davis would wear in her role as Annalise Keating on How to Get Away With Murder.
Your orders will be delivered to your front door (or, whichever door you specify). My Fix and my Trunk arrived within two days of each other!
And this is where I admit to you I didn't take nearly enough pictures. In fact, this picture right here (of my trunk when I first opened it) is pretty much all you get. Sorry about that. I thought I took more, but I guess I was having too much fun to take pictures. Because, you guys! I had a blast!
Each order arrives beautifully packaged and, in each box is a list of the items in your box, along with some suggestions about how to wear them. I'm going to tell you something that will prove to you this was a great experience: Among the two boxes there were three pairs of jeans and every single pair fit me perfectly! I promise you. They were perfect! The jeans ranged in price from just under $100 to just under $200. In the end, I kept the mid-priced pair. They are black, extra-skinny, with a high rise. All three pair were skinny with a high rise, thanks to my conversation with Gretchen and my detailed description on Stitch Fix.
Of course, you're wondering about price. In my trunk, most of the items were less than $100, and some were less than $50. There was an iconic Diane von Fürstenberg wrap dress (!) which is an item on my bucket list that I hope to own one day. But, at more than $300, that bad boy had to go back. I knew it would be going back when I saw it on my list before the trunk shipped. But, it was fun to finally try one on. All of my Fix items were less than $100, except for that one pair of perfectly fitting jeans.
When you set up your Stitch Fix profile, you are encouraged to share a price range for the items in your Fix and, when you talk with your Trunk Club for Women stylist, you can do the same. Be sure to tell each service how much you're willing to spend. Also, be prepared for them to throw a few splurge items in with your order. You don't have to keep anything you don't want, especially if it's out of your budget.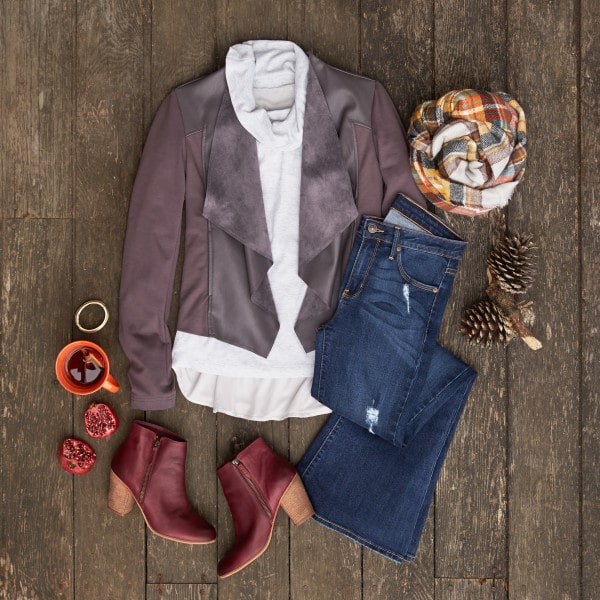 One more thing: Stitch Fix charges a $25 styling fee, which is credited to the items you keep, but not refunded if you choose to send everything back. Trunk Club for Women doesn't charge a fee.
In the end, I kept four items, all from the Trunk Club for Women.
First, let me tell you why I sent my entire Fix back. While the jeans fit perfectly, they were a very light denim and I prefer dark wash. If they'd been dark, I may have kept those jeans. The striped shirt they sent was not the right shape and not the right color, so it went back. The motorcycle jacket in my Fix almost stayed with me. At about $68, it was priced right, but the material wasn't quite what I was looking for. Then, there was the dress! Oh my goodness! The dress was exactly what I'd asked for. It could have made its own appearance on How to Get Away With Murder. The dress was $88 and it fit like a glove. The only problem is that I have a dress in the same olive color and shape. I tried to convince myself it would be okay to have two dresses that were almost identical but in the end, reason won out and I sent that dress back. It was the right thing to do. There was also a sweater in that Fix, but it was the wrong shape for me and not what I was looking for, so back it went. Having said all that, however, this was—hands down—the best Fix I've ever gotten. I honestly attribute the success to my detailed instructions when I placed my order. I will definitely order a Fix again, and I'll be sure to give details about what I need.
What I kept: A motorcycle jacket, a long cardigan sweater, a pair of jeans, and a pair of Toms booties. I spent just under $400, which sounds like a lot of money. Heck. It is a lot of money. So, H bought them for me. For Christmas. Each item cost less than $100, and I consider each piece to be an investment. I tend to pay a bit more for clothes, knowing they will last for years. I buy classic pieces and supplement them with trendy jewelry or t-shirts or tights. I sent a bunch of stuff back to Gretchen, including some blouses that didn't fit right, a really expensive motorcycle jacket,  more sweaters, and a pair of jeans. I have to say, I'm over the moon about my purchases. They are high quality, they fit well, they're comfortable, and the price was right (for H).
You get about three days to review items from Stitch Fix, and ten days for Trunk Club for Women. When you're ready to send things back, it's an easy process. Everything you need is in the box. For the Trunk Club for Women, load everything back into the box, seal it with the adhesive strips enclosed and stick the enclosed pre-printed label on the outside of the box. Then, schedule a pick-up via email and the UPS people will come to your house to pick up the return. SO easy! With Stitch Fix, it's almost the same except the items go into an envelope they provide, and you drop off your return at the Post Office. Also easy, even with the extra step of taking the package to the Post Office yourself. Here's my trunk, waiting for the UPS truck.
Be sure to give feedback on your orders, too. I was able to email Gretchen to tell her what I liked and what I didn't (a blue lace dress). When you schedule your next Fix, use that comment section to tell them what you liked and didn't like about the previous Fix.
Both services offer credits for referrals. Stitch Fix offers $25 for each person you refer who orders a Fix, and Trunk Club for Women offers $50 for each person you refer who spends $50. The links in this blog post are referral links. Follow the Stitch Fix blog for stylist tips, reviews, and more. And, if you're ever in Chicago, Dallas, LA, or DC, you can schedule an in-person session with your Trunk Club for Women stylist at one of their Clubhouses.
From this experience, I will definitely order a Trunk again. I feel comfortable with my stylist, and I think Trunk Club for Women may have an edge over Stitch Fix when it comes to working with women in my generation (I've typed and re-typed that sentence, but that's the best I could do. I hope it doesn't sound stuffy. Let's read it again after I write about how our bodies change with time, okay?). The price points are comparable, and so is the quality of the clothes I received. Both services are great, and it's fun if you like fashion or just don't feel like being bothered with a trip to the mall. And, if you've got a special occasion coming up, it's a great way to find the perfect outfit without having to make a bunch of trips to a bunch of stores for shopping and making returns.
So, what about you? Have you ever used one of these services? Have you tried a different one? Tell us your experience, or tell us what's holding you back from giving it a try.