When I first started blogging, back in 2008, I can't even say for sure that I was aware of the Church calendar. Today, however, I know enough to say with certainty that Christmas is just beginning. I know you may be trying to catch your breath from the shopping and the wrapping and the baking and the eating but, according to the liturgical year, Christmas has just begun.
It has been quite a year. I published my very first book, hosted the second JumpingTandem retreat, spoke at some great events where I got to meet many of you in person, and worked with many incredibly talented writers at the High Calling to produce stellar content.  Thanks so much for hanging in there with me. Thank you for buying the book, coming to the retreat, writing great stuff, supporting our #Dressember efforts to help end human trafficking, and showing up to read this little blog from time to time. I have some of the most amazing followers and friends—here on the blog, and on social media. You've been such a gift to me, and I'd like to thank you for all the ways you've supported me over the years.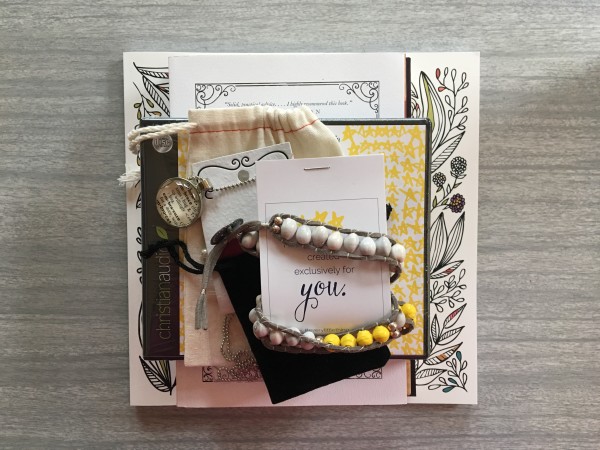 One of my favorite things about Christmas is the giving of gifts. I'm always thrilled when I get to hand a brightly wrapped present to someone I love. It's truly my favorite part about the holiday we celebrate on December 25th. This year, as we take a deep breath and say good-bye to 2015, I've put together a grab bag of gifts for one lucky winner of this little blog. Hopefully you're just as thrilled about this collection of gifts as I am to offer it to you.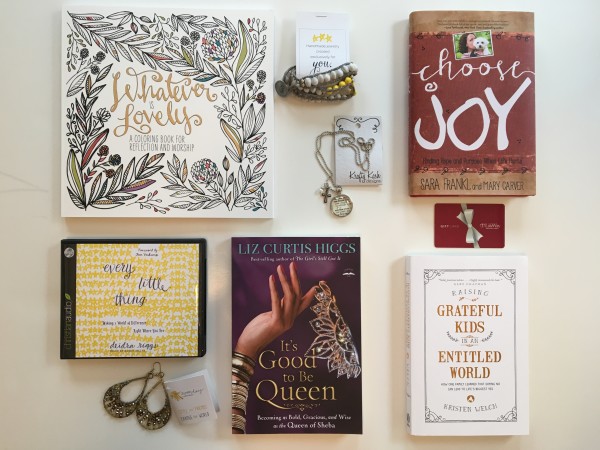 I've curated a few of my favorite things, and I know that's not really how gift-giving works. I know you're supposed to try to figure out some of the recipients' favorite things but, I'm hoping some of these gifts make you smile, just as they make me smile.
Here's what's included in the grab bag: Whatever is Lovely: A Coloring Book for Reflection and Worship; the Alexandra bracelet by ViBella for Every Little Thing; One Word "Embrace" Pendant Necklace by Krafty Kash; Choose Joy: Finding Hope and Purpose When Life Hurts, by Sara Frankl and Mary Carver; the audio CD of Every Little Thing: Making a World of Difference Right Where You Are, read by Robin Miles; sparkly earrings by Noonday Collection; It's Good to Be Queen, by Liz Curtis Higgs; Raising Grateful Kinds in an Entitled World: How One Family Learned that Saying No can Lead to Life's Biggest Yes; and a $50 gift card to Lifeway Christian Stores (includes online shopping)!
Of course, Every Little Thing is my book, but I've been chatting with Robin Miles, the voice of the book in this audio version, and she is really amazing. I'd love to share this version of the book, just so you can hear her voice. Raising Grateful Kids in an Entitled World and Choose Joy each release in January. They are written by two of my (in)courage sisters, so I've had the privilege of a sneak peek at both and let me tell you, I recommend both of these books with a standing ovation on the side.
Liz Curtis Higgs is another (in)courage sister and she blessed me immeasurably when she asked me to endorse her book about the Queen of Sheba. Liz is so very gifted at mining a biblical story for rich and practical truths. I had no problem lending my enthusiastic support to this book. Finally, the beautiful book, Whatever is Lovely, is published by Waterbrook Press. It's a coloring book, and it will take your breath away. It includes quotes from people like Lisa-Jo Baker, Jennifer Lee, Sarah Bessey, and yours truly.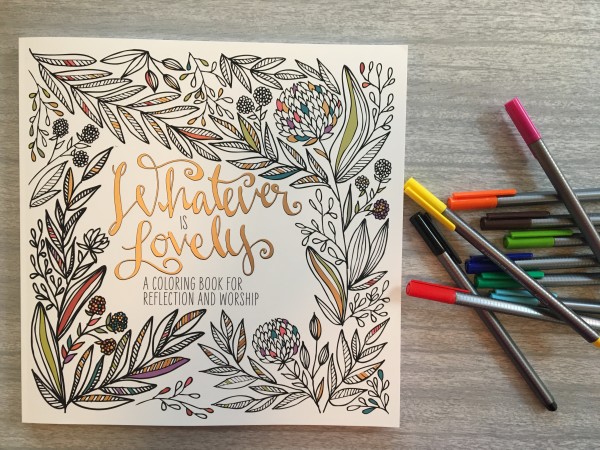 I will always have a special place in my heart for the people behind the jewelry companies featured here. Each one has sponsored the JumpingTandem retreat, both years that we've hosted it. I've met each of the women behind these three companies, and I'm honored to call them my friends. They are gentle powerhouses, and they are changing the world in the places where they live and travel, every single day. It's my joy to be able to share the results of their hard work with you.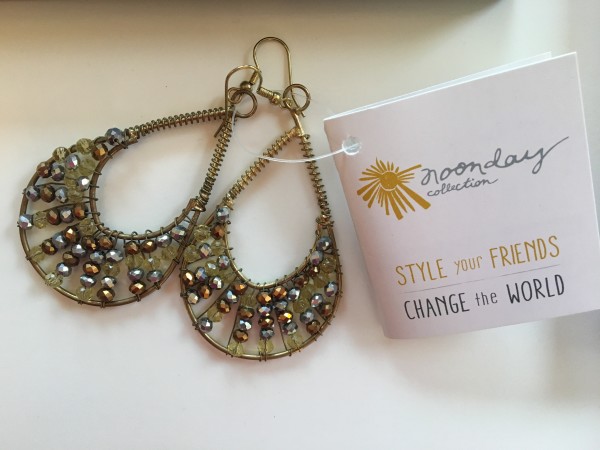 As I prepare to head into 2016, I'm looking forward to quite a few things. First of all, I'm well into the writing of my second book. It's the book I've been wanting to write for a very long time, and it focuses on many of the same elements that drive our #GoingThere conversations. I am so excited to have gotten the go-ahead to write this book and I ask for your prayers as I try to get 5,000 words written each week, ahead of my April 15th deadline. I'll be working to update my speaking calendar for 2016, and I hope for the chance to see many of you again, or for the first time, in 2016. And, I bought a planner! Did you just faint?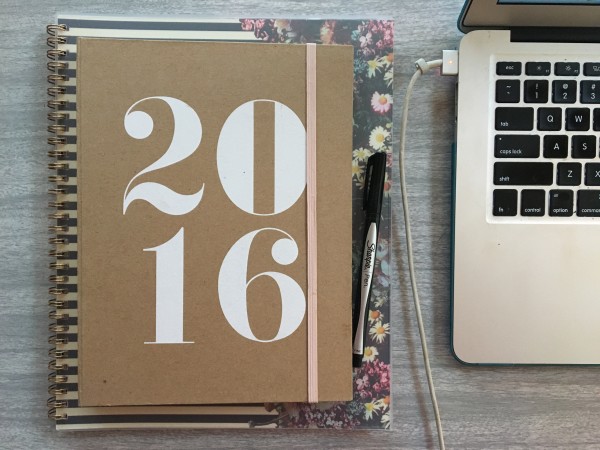 I actually bought two planners, but I'll tell you more about that, on a different day.
For now, know that I'm grateful for you. And, take a minute to enter to win this Thank You Grab Bag, using the Rafflecopter, below. There are lots of ways to enter and the more options you choose, the better your chances of winning. The contest closes on December 31, 2015. All the best!
Note: this post includes some affiliate links.