All week, I get to introduce you to some of my new favorites in the world of blogging, writing, authoring, and entrepreneur-ing (a word I probably just made up). With Advent upon us, I thought it would be fun to do a little bit of old-school hosting of some of the most fabulous people I know. I hope you'll find a way to stop by for this entire series — we'll even be posting on Thanksgiving. Feel free to subscribe for the week, so you don't miss a post (and, you can unsubscribe when the week is done). At the end of the week, join us for your chance to win a copy of #EveryLittleThing and an Everlasting Light Shine Necklace from DaySpring. Happy Holidays!
I keep thinking I've met Monica in person. I haven't. I only know her from the Internet. Our paths first crossed via the High Calling, and I was so impressed with her presence in that space that I've been following her around online ever since. Monica wrote the foreword to Jean Fleming's book, Pursue the Intentional Life (a recent Incourage book club selection) and then, Jean wrote the foreword to Monica's book, Behold the Beauty: An Invitation to Bible Reading. Monica's book released earlier this year, and it's one to add to your holiday gift-giving (and receiving) list. I'm excited to welcome Monica here to this space. Enjoy!
If you're at my house at eight o'clock on Christmas morning, you'll hear the oven door open. When it opens, you might close your eyes, smile, and lift your nose to take in the warm scents of fresh-baked bread and cinnamon.
Every Christmas, my husband makes cinnamon rolls from scratch. He starts the mixing, kneading, rising, and baking before dawn so that the rolls come out of the oven right at breakfast time. He makes the bread dough with white flour—a big deal for three boys whose mother makes whole-grain everything all year long.
This is no small thing. We're talking about Charles Sharman, son of Sue Sharman; the very same Sue Sharman who is famous throughout Montrose and Mesa Counties and beyond, for her homemade cinnamon rolls.
After breakfast, we move to the fireplace hearth to light the "Christ candle" in the center of the Advent wreath, and read the story of Jesus' birth. We pray and sing carol after carol as my son accompanies us on the piano. I always request my favorites: "Once in Royal David's City," "Thou Didst Leave Thy Throne," and "Lo, How a Rose E'er Blooming."
Sometime during the next twelve days, we make gingerbread creations—one per son. The gingerbread, like the cinnamon rolls, is made from scratch. Charles always uses the "Rolled Ginger Cookies" recipe, hand-copied from my mother-in-law's 1960s Better Homes & Gardens cookbook.
The gingerbread creations are intended for both display and consumption, so of course, they must be 100 percent edible. No toothpicks for rebar. Definitely, no hot glue allowed. We don't even use the royal icing commonly used as "glue" for gingerbread houses, because it doesn't taste good and is made with raw eggs. But my guys like the extra engineering and design challenge of having to use buttercream frosting to keep the pieces together.
In previous years we've made a gingerbread TIE fighter (think "Star Wars"), a gingerbread Star Destroyer (again, "Star Wars"), a gingerbread Leaning Tower of Pisa, a gingerbread aircraft carrier, a gingerbread Eiffel Tower, and even a gingerbread house.
One year we had a gingerbread Freedom Tower, before the real one had been built in New York City. My son based it on designs and artists' conceptions he found online.
A few years ago I joked, "You guys should make a gingerbread Sydney Opera House." But they took me seriously and plan to combine their gingerbread dough portions to do it this Christmas (the last Christmas before our oldest son graduates from high school). I'll come back here with pictures if they pull it off.
Last year, my brother and his family celebrated Christmas with us again. My nephew Aiden was in our living room, playing with his rubber Godzilla. In order to plan for baking amounts and design the pieces beforehand, I asked Aiden what he wanted to make out of gingerbread this time. "It doesn't have to be a house," I reminded him.
"Godzilla!" he said, roaring.
Our gingerbread-making is a fixed yet customizable tradition—a groove that brings us and our holiday guests together in a relaxed, fun way. Then we lick frosting off our fingers, eat the cookies, and head outside for another tradition: the snowball fight!
---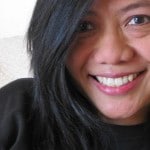 Monica Sharman is a home educator, freelance editor, and author of the newly released Behold the Beauty: An Invitation to Bible Reading, and portions of this essay are excerpted from the book. She lives in Colorado with her husband—inventor of Crossbeams (learn more, in this gift-giving guide from Jennifer Dukes Lee) —and their three sons. Also, some say she makes a mean cheesecake. Connect with Monica on Twitter, Facebook, or Google+.