All week, I get to introduce you to some of my new favorites in the world of blogging, writing, authoring, and entrepreneur-ing (words I probably just made up). With Advent upon us, I thought it would be fun to do a little bit of old-school hosting of some of the most fabulous people I know. I hope you'll find a way to stop by for this entire series — we'll even be posting on Thanksgiving. Feel free to subscribe for the week, so you don't miss a post (and, you can unsubscribe when the week is done). At the end of the week, join us for your chance to win a copy of #EveryLittleThing and an Everlasting Light Shine Necklace from DaySpring. Happy Holidays!
---
The other day, over lunch, in front of God and a bunch of my girlfriends, I confessed to my friend Kashoan that I sometimes stalk her. Sometimes, I hop over to her website, and I read through the words and look at the pictures and I just grin with joy, because this is one sister who is living her dream! Kashoan is so very humble about the work God has given to her and her husband, but she is an inspiration, for sure! If you're not following her, you should. Today, she's sharing a little Thanksgiving goodness, but I feel like I want to invite her back every month, so you can be inspired on the regular. Enjoy!
I am thrilled to write for you all right here in this beautiful blog space. When Deidra extended the invitation, she asked me to write something for Thanksgiving. Maybe a holiday traditions post? Instantly I replied… yes!
I spend most of my day in our workshop in the basement making jewelry. My husband and I have owned our little business for almost 5 years. Together, we get to work from our home in the country, and I get to work with my best friend. We make jewelry. It is an amazing job. We work with customers to find the perfect word, map, or verse for their necklace. I love words, and I am good at finding words to match people. Making jewelry is so much fun, and it is my God-given talent. Writing on the other hand, is not so much. But, I had a few ideas in my head that I thought might be worth sharing.
I thought about telling you how every year as a child, my mother would load up all three of us kids into our family car and we would travel six hours to my grandparents' house in McCook, Nebraska. We fought a lot in that car. My Mom was our only driver. I can't even wrap my brain around the thought of driving for six hours with three screaming, fighting kids in a car. But we went every single year and we loved it! My Grandparents always served the traditional Thanksgiving meal with a never-ending supply of side dishes and pumpkin pie. Those were fun times. I looked forward to them every year as a kid.
I also thought about telling you how my husband and I finally decided, after years of trying to be everywhere at once, that we were going to start staying home for the holidays. We used to take our two little kids to three different locations to celebrate with our families. It was exhausting. My kids are now twenty and sixteen years old, and it still is the hardest thing ever to tell people you love, "No thank you, we are staying home this year." But it can be so worth it. We have been able to start some awesome traditions at home, that would not have been possible before, when we were trekking from one family holiday event to another. Now, with just us at home, we enjoy having leftovers and making a cold turkey sandwich for dinner. It's the little things that make me happy. Those are the things I want my kids to remember someday.
But my favorite story that I decided to tell you, is the story of my new chalkboard. My husband, Kiley, travels to auctions everywhere for our business. He is always on the hunt for one of a kind vintage finds. I always have a small "want" list for him. Ever since I was a little girl I wanted a chalkboard. Kiley recently made my dream come true, when he found the perfect vintage chalkboard for me at a farm auction.
It is one of those old slate chalkboards that weighs 1000 pounds. It really is an amazing one of a kind piece.
In October, we covered the board in fun Halloween drawings and words. In November, we decided to turn it into our thankful board. I told my family to write the first thing that comes to mind that they are thankful for once a day. No thing is too little. Keep it positive. Have fun!
I have to say it has made me appreciate all the little and big things in life just a little more. It puts a smile on my face. I have so many things to be thankful for in my life. I check the chalkboard every day to see who added something new. And I love that my family and friends are participating by writing on our chalkboard. It makes my heart happy. Our thankful board is a new tradition that I plan on doing again next year at Thanksgiving. It is another reminder to me that God is good.
---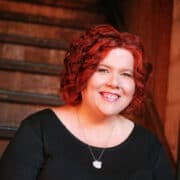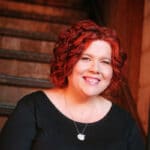 Kashoan Ward. Mom. Wife. Friend. Dreamer. Jewelry Designer. Nebraska girl.
Sign up for the Krafty Kash newsletter, and follow the updates of Kiley and Kashoan's life on the prairie, by liking their Facebook page, here.