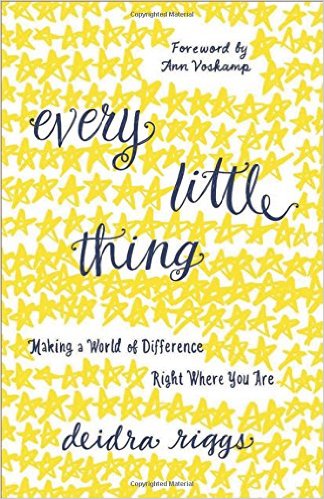 Clearly, I have never launched a book before. Have I told you just how long it took for my agent and my editor to convince me I actually had something to say? It was a long time. But, eventually, I did it. And now, we're just about five weeks away from the day the book is supposed to ship from the warehouse, or wherever it is books come from.
As is my custom, I did things backwards. I posted that invitation to you to be on the launch team for Every Little Thing: Making a World of Difference Right Where You Are, and then I sat down with someone to figure out the details. I thought there would be about five people who said, "OK. Yeah. Sign me up." And, I thought those people would be my parents, my husband, and my children.
When nearly one hundred of you said, "YES!"—and so enthusiastically!—I had to regroup. And, by regroup, I mean, I had a slight meltdown and then I panicked and then, finally, I prayed. Backwards, yet again. If I'd prayed first, I might have avoided the panic and the meltdown. After I prayed (which sounded a lot like, "God! What am I going to do?!?!"), an email miraculously landed in my inbox. It was from a dear friend of mine who has the organizational skills needed for a task such as this. She wanted to help, and I signed her up.
The first thing she did was to create a form for those of you who'd like to be on the team. It's really an agreement, with details about how we'd like you to help. If you're still on board, we'd love it if you'd click through and complete the form so we can get you on the list. And, when I say "we" I mean my incredible Launch Team Coordinator, Mary Bonner.
The next thing "we" did was to set up an email address for all Lauch Team correspondence. You'll find the email address when you click through to the form.
Now, here's the important part: Space is limited on the team and we are giving priority to those who said "YES!" in the original invitation. Click here, scroll through the comments, and make sure you left a comment there, on or before August 30, 2015. Once we get all those people formally signed up, we'll open the team to others who'd like to join, as long as there is space.
If you've got questions, this is the place to ask them. And, if you've already said, "YES!", thank you, from the bottom of my heart.