There is a beautiful hour, this time of year, just before the sunsetting beauty begins. It's an hour when the light glows like golden haze and the air wraps itself around your shoulder in a soft and gentle embrace. Birds find their way home. Around the corner, someone finishes mowing, and the sound of the motor as it shuts down seems to fall right off the edge of the sidewalk and roll down the cobblestone street. There is a faraway sound of children laughing, and the man on his screened-in front porch strums his guitar and sings a sweet song in a voice too low to hear unless you happen to be walking by at just the right moment, caught in surprised delight.
There is nothing new under the sun, you know. The news anchors and the status updates would have me believe this brokenness we're getting to know so very well is unprecedented and unusual, and they almost had me. But I went for a walk, instead.
I didn't know what I was looking for. Just a walk. That's what I thought. But there was that golden haze and the air around my shoulders. And, there was grace. There always is.
Grace is all around us. It's filling in the gaps and pressing back the darkness. Grace moved into the neighborhood, and sometimes I forget what life was like without it.
Nothing in all of creation is hidden from God's sight. Everything is uncovered and laid bare before the eyes of him to whom we must give account. Therefore, since we have a great high priest who has ascended into heaven, Jesus the Son of God, let us hold firmly to the faith we profess. For we do not have a high priest who is unable to empathize with our weaknesses, but we have one who has been tempted in every way, just as we are—yet he did not sin. Let us then approach God's throne of grace with confidence, so that we may receive mercy and find grace to help us in our time of need. Hebrews 4:13-16, NIV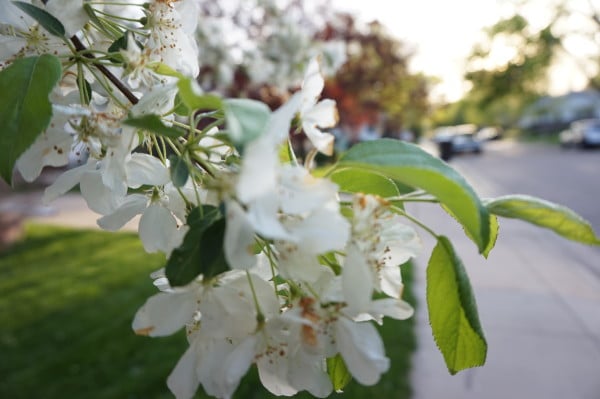 If you find yourself struggling with the weight of this broken world, and with the headlines and the news feeds and the call to pick a side and hold on tight, might I suggest you take a walk, instead? Find and home in on the things that are true and noble and right and pure; anchor your thoughts in the lovely, admirable, excellent, and praiseworthy moments and people and experiences and gifts that God makes available to us because of grace. (Philippians 4:4-9)
"I have told you these things, so that in me you may have peace. In this world you will have trouble. But take heart! I have overcome the world." John 16:33, NIV
If only God would step in and make things beautiful and easy, just like that hour on an evening in late Spring. But when the hem of grace is lifted and we see the brokenness for what it really is, it reminds us why God doesn't just snatch us right up to heaven when we decide to follow him. We are salt and light. We are the hands and feet of Jesus. We see the headlines and we read the updates and they become our prayer list. We are clear about what to pray for. We are not divided. We don't save our prayers only for those who make our lives easy. We pray for our enemies and for those who persecute us, just as we pray for the persecuted. We labor in prayer, like the rest of creation, groaning as if birthing his Kingdom into existence. Our prayers push back the darkness and our service to a broken world points to a different way.
We go for a walk, instead, and there we are reminded of grace. We re-up for our role in the redemption story and we ready our knees and our hearts and our minds for prayer. We open the Scriptures and we keep looking up. We thank God for grace. We go where he leads and, we make ourselves available to a broken world. We open our hands and our homes and our hearts and our wallets because we are the hands and the feet of Jesus, and he has moved into the neighborhood and covered it with grace.
:::
Some questions for you: What would this world be like without the grace of God? When we pray, "Thy Kingdom come, thy will be done," what are we really asking for? What role is God inviting you to play, from right where you are?