I don't know, y'all. I've got mixed emotions about this book thing. I started a newsletter for people who wanted to follow along with the book-writing/editing/publishing process, and I think I wrote two — maybe three — issues before the whole thing just got to be too much. Writing a book is an ordeal.
It would be one thing to write a book in a chalet in the Swiss Alps, with servants who quietly showed up five times each day: three times to bring me healthy meals, once to clean the house, and once to remind me to take a shower and exercise. That would be pleasurable, I imagine.
Or, to write a book in a beach house in Hawaii, with those same servants who showed up five times each day, for exactly the same reasons as the servants in the chalet in the Alps. I think I would like that.
However, I am me, with the budget I have, and the real life I live which kept on happening, regardless of the fact that I was in the middle of writing a book, thank you very much. There was no chalet, no beach house, and not a single servant. Healthy meals were rare, as was exercise. I did take showers. Most days. And, when I took one, it was usually some time before lunch.
Eventually, I made it to the deadline, with enough words. After that, I made it through the first round of edits and a massive re-write. Now, I'm sitting on my deck, my shoes off, the sun on my feet, waiting to receive the galleys. (Sounds as if I know what I'm talking about, right? Don't be fooled, fearless reader. Don't be fooled by my publishing jargon. I'm not even sure I spelled that correctly.)
It has been a joy for me to have the manuscript in someone else's hands, where I don't have to think about it. I like not thinking about it. In fact, just a few weeks ago, I was wishing the book might just go away. There is so much that could go wrong, you know? And, I tend to brace myself for, and live into the worst-case scenario. I shut myself down long before the first bell rings. So, up until a few days ago, when people asked me about the book, I shrugged it off, with a wrinkled nose and an attempt to divert the conversation to a different topic. I began to imagine how wonderful it would be to have the book out there, but without my name on it. I began to consider a pen name, something like, Anonymous.
I was deep into this dream one day, imagining myself passing by the book at Barnes and Noble, knowing the truth about its authorship but not having to own any of it — most especially the reviews about it, which may be unkind. It's a jungle out there, is it not? And so, there I was, imagining a way to convince my agent and my editor and my publisher to replace my name with my newly-invented pen name, when I got little message from God. And what God said to me was this, "Hey! Wait a minute! I worked hard on that book!"
God doesn't usually go on and on with me. He cuts to the chase and gives me a message in the way I can understand it and, that day, what I understood God to be saying was this: The message of this book matters to him, and he has chosen me, not only to get the message out, but to champion it on his behalf.
Talk about a gut check.
I shared this news with a few friends of mine last weekend, while eating salad and chicken and cheesecake and then, the very next day, the cover of our book— God's and mine — started popping up on social media. My instinct was to run and hide. To untag myself. To find a way to shut down the Internet. To just go silently into that dark night. (A little too much? Sorry.) But then I remembered this book is God's project.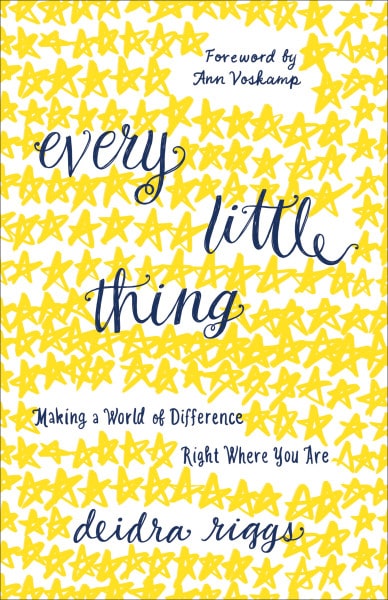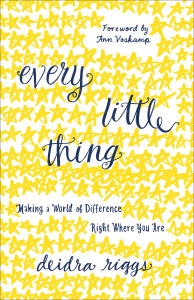 I believe in the message of this book, you guys. I believe it, and I need to hear that message preached to me, over and over again. I need to know that my small life — on this small sliver of earth, with my small sphere of family and friendships and people of faith, in this infinitesimally small span of time I've got — means something big to God. I need to know I can make a world of difference for good, right where I am, as I bumble and stumble through the everyday-ness of life. I need to know that there's nothing to force or to fix or to flip, before God takes notice of me and invites me to join him while he redeems and restores this world of ours.
I need my name on that book. Not because it's about me. No. I'd still really like to just find a hole somewhere off the coast and live there for the next thirty-six months or so. But, I need to have my name on that book as a public testimony (to those who might see it, pick it up, buy it, and read it) that I stand with God and I believe the message he wants to share with us (and when I say us, I mean, me first) is an important one. Whether the reviews are kind, or the book sells just a few copies, I want God to know this is about me and him. If he's willing to get my fingers to type out a few words that matter to him, then I'm more than willing to say, "Yes. It was me. God invited me on this particular adventure. I am a better person for the journey, and I believe you'll find something in the pages that matters, and that opens you up to letting God make a world of difference, in you, through you, and because of you."
Some questions for you: Have you ever worked with God on a project and then wanted to hide from the results? What's at the heart of that for you? Why do you think God speaks through us — ordinary people, living ordinary lives — instead of using a booming voice to part the clouds and make his message known? Have you ever received a bad review? How did you handle it?
Oh! Here's a link

to the book on Amazon. You can pre-order it. <———That is my very first attempt at promoting the book. How'd I do?