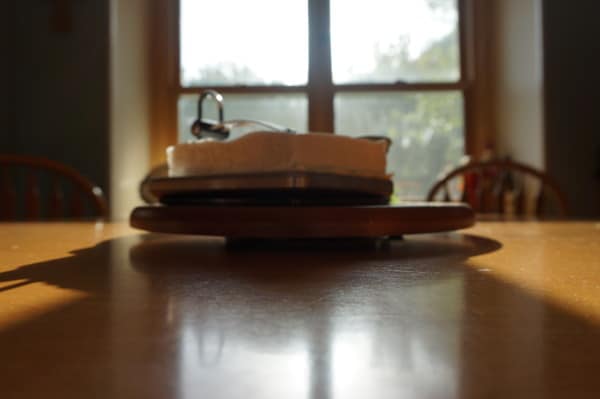 Context is important. Sometimes, you get dropped into a person's story, and you're not exactly sure how you got there. Or, for that matter, how they got there. So, let me tell you first that I was born in 1964, the same year the Civil Rights Act was signed into law. My first memories are of life in New Jersey, where I lived with my family until, when I was ten years old, we moved to a town in Michigan that bordered Detroit.
The History
My parents both grew up in Virginia, "Below the Mason-Dixon line," as my mother used to say. Every summer and every Christmas, our family of four made the trip from wherever we were living, to visit my grandparents in Virginia. In second grade, my New Jersey elementary school was closed down and I and my classmates were bussed to a school on the other side of town. There is a newspaper article with a picture of second-grade me, along with a bunch of adults and a few other children, taking part in (what I remember to be) a peaceful protest against busing; a protest which, apparently, was unsuccessful.
In Michigan, for the first year and a half of my high school career, I attended the public high school, where my (mostly) black and (a few) white classmates and I cranked up the volume on the boom box and sang "Le Freak" at the tops of our voices as the big yellow bus we were riding careened around the corner before dropping us off at the school's front door. Then, in the middle of tenth grade, my parents transferred me to a small, private, Christian school and my first, real introduction to racism. I was probably lucky (or naive) to have made it that long without realizing I was being treated differently because of the color of my skin. There was one other black person in my class in that small, private Christian school. He was a boy so, naturally, everyone tried to fix us up with one another. Because, as our classmates never failed to explain to us, now there was finally someone at the school this poor guy could date.
He and I became friends, but that was more a function of solidarity than romance. There was no romance. We went to the senior banquet together (no prom because, you know, Christian school and all, and a prom would mean dancing), simply because there was no other option. And, we were each voted Best Dressed in our class.
I made it through that school experience, a firm believer in public education and relieved to once again have an educational experience that included black people. At Michigan State, I navigated toward the black students and joined black clubs and found deep kinship and friendships of significance and meaning. There wasn't much talk about inter-racial dating and the Greek system on campus was clearly divided along racial lines (that's still true, yes?). Many of my friends were pledging one of the historically black sororities and fraternities on campus, and many of the black organizations hosted dances on the weekends to raise money for their community outreach projects and to keep their chapters running. In college, I was immersed in black culture and community, and I was thriving in many ways.
The Legacy
At the same time, my church, and stories about my family history, and H's family were all serving to instill in me a deep pride in my heritage and a love for the color of my skin and the kink in my hair and the curve of my hips and the beat of my soul. It was a slow and growing passion, just sort of simmering beneath the surface at first, quietly questioning the images of beauty sold to me in magazines and on television screens and in the movie theater. But, there was more. My family history told me I come from a long line of strong and wise and thoughtful and faith-filled people. Not perfect. No one is trying to infuse this with anything more than what it is and was. I looked around me, and there could be no doubt: We were (and are) survivors and entrepreneurs and faith leaders and educators and nurses and doctors and more.
I read Jet and Ebony and Essence, from cover-to-cover, whenever a new issue made its way within my grasp. And, if a movie with black people in it was released, I forked over my hard-earned cash to see it. It was solidarity. It was support. Back then, in a movie with mostly white actors, if there happened to be a black person with speaking lines, everyone knew that black character was not going to make it to the end of the movie. Some how, some way, that character would get killed off before the movie was halfway done. But, in a movie or television show with black people as the main characters, we stood a better chance. Not stellar. Not redemptive, necessarily. But a better chance of making it all the way through the thing.
The Point
Now, you and I? Here in this space? We have had some deeply meaningful, honest and true, hard and tender conversations about race. And I have talked with you about race mostly as it relates to the church. And the Church. My primary calling, as I understand it, is to the North American church, and primarily to the white people in those churches—locally, and nationally. Most of the people, for whatever reason, who engage the conversation here are white, and I am embracing the calling God's given me and the people he sends. There have been a few times I thought I was done, here. I thought I'd said my last word on the matter. At least, I hoped I had. But yesterday, H and I went to see Selma, and I could not find my way through all the emotions that surfaced. Even this morning, as he and I rode together in the car, and sitting here, typing this out, my heart is doing a little fluttery thing and I keep being reminded of someone in the bible who says their heart had turned to wax. I don't know if they meant that as a good thing or a bad thing.
This morning, when I was still feeling shaky and lit on fire from somewhere behind my ribcage, H told me I'm not going to escape it. I can't set it down, as hard as I try. As much as I might want to go quietly into the night, I just can't. You've heard me wrestle with this before. You've seen me try to lay it down and just be quiet.  But, last night, I went to see Selma, and it shook something awake in me. Or maybe it fanned a flame, or turned on a switch or something. And I want to tell you about it. But, as I sat down to tell you, I realized I needed to try to explain why the movie had such an impact on me. And I can't do that, without first giving you context.
So, stick with me. I hope you do. I hope you hear my heart. I will try to tell it to you plainly. I will try to get to the point. And, eventually, I hope to make my way to telling you my thoughts about the movie, Selma. I hope you go to see it. I hope you let it get inside your head and in your heart. I hope it shakes something loose for you, too. I pray it does. And I hope you'll share some of your story here in the comments. We are in this together. Love hopes the best. Sit with me, here at this table, and let's see what God's got in store for us. It is better days and warmer nights, of that I'm sure. But that doesn't mean we'll bypass the tough stuff. Let's believe the best about one another, shall we? Let's keep asking our difficult, embarrassing, potentially offensive questions and let's end up in a better place than we are now. Because we can't keep doing things the way we've been doing them. Not as the body of Christ. We cannot keep doing what we've been doing and think God is pleased with us.
Some questions for you: What movies have you seen where black people were the main character/s? What impression did those movies give you of black people? In what year or decade were you born? How do you think your birth year impacts your view of the experience of being black in North America? If you attend church, do your church leaders ever talk about race? What do they say? Would you rather not talk about these things?