We had a party Saturday night. I am in my element when I'm hosting  a party. I love every last bit of it. We decked the halls and lit the candles and pulled up all the extra chairs from the basement, and I made brownies. It wasn't anything fancy. Just hot cider on the stove, and brownies and cookies spread out on the dining room table.
I love our dining room table.
There are things I have wished for. Not world-changing things. Just simple things I wanted, things to help make our house feel more like a home. Things like furniture I don't have to put together with an allen wrench. And a bedskirt. And a headboard. And a bathroom with a door that locks. And a window over the kitchen sink. And a big dining room table with lots of chairs around it and lots of feet beneath it.
When we first got married, we lived in a tiny little apartment in Rochester, New York. H was a seminary student and we lived in "Married Housing." We had hand-me-down furniture, an apartment-sized stove, and a case of champagne that someone gave us as a wedding gift. We were set. And poor. And H said to me, "It may not look like much right now, but just stick with me." And I did. I stuck with him, and sticking with him has never really been a chore. Not even on the toughest days. Oh, there is work, because marriage takes work. And there have been tears and frustration and disappointment and anger. But there has always been love. Even on the very worst days.
About five years ago, I finally got that dining room table and, right after we bought it, we downsized and moved to a house without a dining room. H disassembled the table and leaned it up against the cinderblock wall in the basement. Every now and then, he'd say, "Do you think we should get rid of that table?" But I knew better. I knew we'd get that table out again and that we'd have lots of chairs around it and lots of feet beneath it.
I was right.
When I turned in my manuscript to my editor, I looked at the blank squares on my calendar and realized there was no travel scheduled, no speaking engagements, no need to get on an airplane and fly away somewhere. So I filled up those squares with parties, because that's the kind of thing that fills me up.
Maybe you noticed we moved into a new house last summer? Well, it's an old house, but it's new to us. And we love each other—the house and us. So, people showed up to our party on Saturday and they stood in the entrance and said things like, "Oh, wow, this is lovely!" and, "There are houses, and there are homes. This is a home." and, "This feels so cozy!" and, "I love it in here." And, the other day, our next door neighbor stood next to that dining room table that has a new place to do its thing, and our neighbor said—arms swinging back and forth, "There is such great energy in here!" That's music to my ears, friends. Because it's not about the house at all. It's about the spirit of love and hospitality that dwells here with us. It is about grace and God and holy things like that.
So, we are partying through the month of December, here in our new old house. Thanks be to God.
On Saturday, with all the people squeezed into the corners and on the window seat and around the table and in front of the blazing fire in the fireplace, I took a boatload of pictures. Pictures of new couples, pictures of old friends, pictures of hands choosing cookies from the platters on that table. I took pictures of the fire and the laughing and the leaning in to hear better. And then, when everyone left, I realized I hadn't put the memory card in my camera. So, it's all just a memory for me, and a story I get to tell you.
H and I cleaned up the house and we turned out the lights and I couldn't come down from the hospitality high, so I sat in the glow of the welcome candles in our windows, and relived the entire night. It was good. It was very good.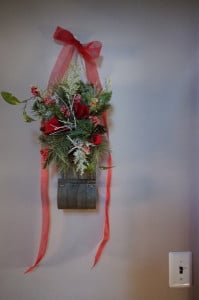 We are made for each other, you and I. We are built for community and fellowship and relationship with one another. We are created for laughter that makes our bellies ache, and shoulders to help carry someone else's burden. We were made for this. We were.
Some questions for you: Do you like hosting parties, or does the thought of party-hosting freak you out? What was the very best party you every attended? Tell us about your table. Is it the one you've always dreamed of, or are you still looking for your perfect match?
And also? I'd love to have you join me for JumpingTandem: The Retreat. It's a party, hosted by me, and held on the Great Plains, right here in Nebraska. If you're a blogger, writer, artist, entrepreneur, or an otherwise amazing person with a fabulous dream, or if you just want a place to breathe, I would love Love LOVE to have you join us in May, 2015. For details about the weekend, and to register, just click through here.