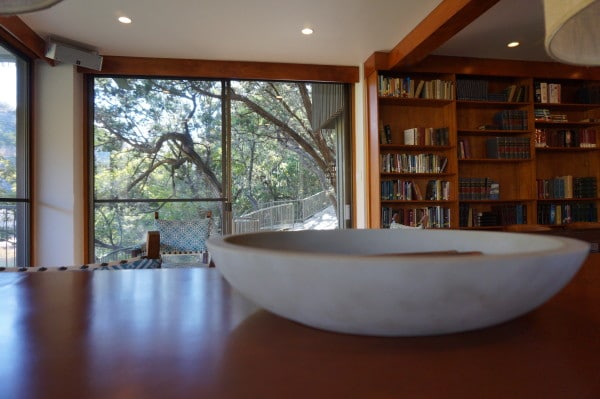 When I was a little girl, there were nights I'd lay in my bed at the top of the stairs in our yellow Cape Cod house on a street near where the road ended in a cul-de-sac. We called the cul-de-sac "The Circle" because cul-de-sac hadn't yet made its way to our consciousness. My mom had wallpapered my bedroom in stripes and she'd purchased an orange shaggy throw rug (not to be confused with shag) and laid it down next to my twin bed with its orange bedspread. The orange rug and the orange bedspread picked up the orange stripe in the wallpaper that ran from the baseboards to the pitched and (nowadays they'd call it) vaulted ceiling.
At night, after the lights were turned out—and not every night, mind you—I would suddenly find myself spread eagle on my twin mattress, the sheets and bedspread vanished, and my bed spinning 'round and 'round in the middle of the linoleum floor of my little bedroom at the top of the stairs. I never gave it a second thought. It was what it was.
The bathroom at the top of those very same stairs had tiny pink and white tiles on the floor. The tiles were arranged in a nifty pattern—some of them rectangles and some squares, and all of them laid next to each other at right angles on the floor. Sitting on the toilet, my tiny feet dangled over those pink and white tiles and sometimes—not every time—the tiles on that floor would free themselves and bend and roll like water at the end of a dock. Sometimes I could "make" it happen. Other times, it happened on its own. I never gave it a second though. It was what it was.
When I was about nine years old, my parents moved me to a bedroom downstairs on the first floor. I was the only one sleeping down there on the first floor. Years before, my mom had been on the game show, Concentration, where she won a bunch of prizes, including a grandmother clock which ticked loudly and gonged every fifteen minutes. Knowing I was all alone on the first floor with only the sound of the grandmother clock was a scary experience for nine-year-old me.  I huddled under the new bedspread my mother had bought for me and wished myself to fall asleep without anything terrifying happening to me.
One night, in that room all alone on the first floor, I heard a whistle, as clear as day. Clear enough to make me turn my head to see where the whistle had come from. Standing there, beside my bed, was a man in a purple robe—not a bathrobe, a robe like something a king would wear—and a crown of laurel leafs on his head. I was wide awake when it happened. I was terrified, and I turned my head away and wished myself to sleep. It wasn't the man beside my bed that terrified me. I was already terrified, because of being alone and the grandmother clock. But all that fear changed my perspective.
After that, the bed didn't spin in my room anymore, and the tiles in the bathroom stayed glued in place. I think fear keeps us away from the edge.
When my son was a baby, my mother-in-law, who believed God is I Am and everything else, would watch my son staring off at some point over our shoulders. "He sees angels," my mother-in-law would say. I believed her. What reason was there to doubt?
We don't really know who said it, but some attribute this to C. S. Lewis: "You don't have a soul. You are a soul. You have a body." Sometimes, I think we play it too safe. We grow up and we look at things logically and reasonably and we call foul on anything that colors outside the lines.
I think heaven might be closer than we think, and not at all what we've decided it might be.
Some questions for you: In what ways does fear keep you away from the edge? When you read my stories, did you try to explain them away, or did you want to give them a chance? Do my childhood stories remind you of any stories of your own? What do you think children know that we don't anymore?