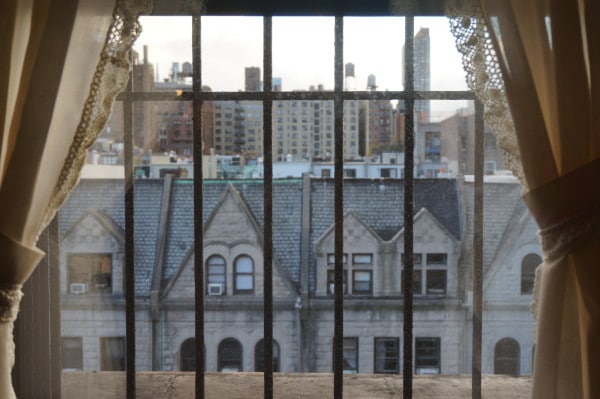 Always, in my heart, there was a dream to live in a penthouse in New York City. Bright lights and all. When I was little, my family lived in New Jersey and, from time to time, my mother took me into the city, often to see a show. We stood in the alley to wait for the Alvin Ailey dancers after their performance and I held out my Playbill for their autographs, which they kindly gave me.
I wanted to be like them. At least, the them I saw from my vantage point as a little girl.
Now, my son lives in Brooklyn and I live in Nebraska. He lives in a studio apartment. I don't think it's on the top floor of his building. Having a son living in a studio apartment in Brooklyn may be the closest I ever get to living in a penthouse in New York City.
When I moved to Nebraska, I was less than impressed with my surroundings. But, over time, my heart or my soul or my mind has wrapped itself around this state with its corn and football and never-ending skies. I still love New York. When I make my way back there, my heart beats faster and my step quickens and I eat food from a truck on the corner near Central Park. But Nebraska is home. I never thought I'd say that out loud, much less write it in a blog post and hit publish for all the world to see.
It is a funny thing, the way a place grows on us.
My son came home for Thanksgiving. He took an entire series of pictures of our windows and he posted them on social media and talked about the light in our house. One afternoon, when the temperature outdoors pressed itself into the sixties, my son and I took a slow bike ride around the neighborhood. We played basketball in the driveway and we used a whiffle ball because that's all we had in the garage. We discovered whiffle balls don't bounce the same way basketballs bounce.
For a long time, in his heart, my son wanted to live in New York City. We lived in Connecticut when he was young and, from time to time, we took him into the city, just because. Now he lives there. He's living his dream. When I ask him how he likes living in New York he doesn't miss a beat. "I love it," he says, as if there was never any reason to even raise the question.
Last night was his last evening here before he and his girlfriend left our home after their week-long visit, and headed back to the bright lights. Big city. So, we cooked for him. H fried chicken wings; his specialty. I made more stuffing and cranberry sauce because our son wanted one more heaping plateful before he left. We sat around the table and I tried not to stare at him too hard or too long, but I couldn't help it. I needed to soak him in because who knows when we'll see each other again? And when I asked him, "What's the biggest challenge about living in New York?" he said, "Finding space." He stretched his arms out wide when he said it, and he spread his fingers as far as they would go. "Nebraska," he said, "has space."
The house is quiet now. Our son and his girlfriend spent the day getting themselves from Nebraska back to New York City. Our daughter left last Friday for Pennsylvania. H and I are discovering this new empty nest. Sometimes I feel as if I've lived a thousand lives. Time is such a mystery, the way it weaves itself a story through our days and with our places and our things and our people, too.
The tag on my tea bag reads, "Life is a chance. Love is infinity. Grace is reality." What I know for sure is that I'm grateful for the way the mug fits in my hand, the way love fills the space between my son and my daughter and me and H while we live a thousand lives on different parts of the globe. And grace. It is real and it makes life a chance worth taking.
Some questions for you: Are you living where you always dreamed you'd be? Which do you prefer, the city or the country, or something in between? What's the greatest challenge about living where you live?