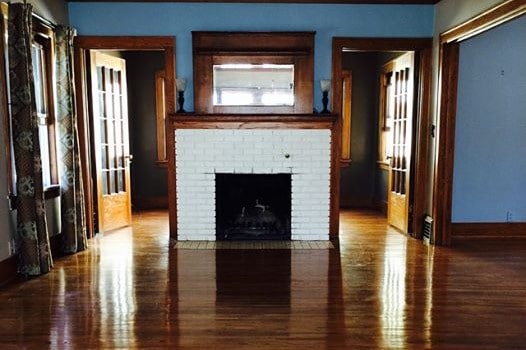 I'm writing this on a Monday morning, a day when, around the globe, people are starting their week with a cup of tea or coffee or water, and—for many of us—a peek at social media. We'll check our emails and we will check Facebook and Instagram and Twitter and Buzzfeed. We will catch up on the latest news and information and life events by scrolling through blog posts on our smartphones and we will like the images we see on Pinterest.
Last Friday, H and I closed on a house here in Lincoln. We are moving from our tiny rental into an old colonial just a few blocks away. We are calling this new house our homestead. We don't plan to move again until it's absolutely necessary. We are putting down roots, right here in the Good Life state, which—for those of you who know me—is a pretty big deal. First of all, I haven't really ever put down roots anywhere and, secondly, Nebraska is the last place I thought I'd ever voluntarily call home.
So, on Friday, H and I signed a bunch of papers and we went from being renters back to being buyers and, as the sun was shining its last light of the day, I sat on a bench in our new living room and snapped a picture which I then posted to Instagram and Facebook and Twitter. It was a low-key way to let people know we are moving, and people liked and commented and oohed and ahhed about the wood floors and the doors and the light and, I have to admit, it's a pretty good picture. But, it doesn't tell the whole truth about this situation.
What you can't hear while looking at this picture is the sounds above me of H demo-ing a bunch of wooden structures the previous owner had built and bolted into the plaster walls and the hardwood floors (and H's running commentary on that). You can't see the fact that these gleaming wood floors actually curve toward the corners of the rooms and, while everything passed inspection, at some point, we might want to have a structural engineer take a look and give us an estimate on getting that fixed. You can't see the layer of grossness left behind in the refrigerator and microwave, and you can't smell what (the guy who came out from the gas company to take a look believes) may have been a gas leak that happened just before we took possession of this house. Looking at this picture, you may never know our beautiful windows have no screens in them and so this house hadn't been opened to fresh air in nearly five years and, on top of the smell of gas from the leak, it also smells musty in here.
That picture up there is simply a snapshot of a beautiful moment in time. Now, don't get me wrong. With all the potential problems this house has in store for us, it is also a house we are going to love for years, and in which we will make many memories. I stood under the unfortunate dining room chandelier yesterday and wondered what this house will see us through in the decades that will unfold before us. Along the way, there will, undoubtedly, be heartbreak and sadness and unexpected expenses and other things I don't even want to type out right here because that's like speaking them out loud, and we all know what that means (knock on wood).
One picture on Instagram does not an entire story tell. I needed to be reminded of that. On social media, most people are sharing the best parts of life in one single snapshot or status update or share. There is nothing wrong with that. It's just not the entire story. So we celebrate together the high points of life and we thank God for them and for each other. And we click and share and like and read, knowing we're all on a journey and that sometimes our floors creak and slope towards the corners, and sometimes we need a demolition session, and other times the light shines through the window at just the right angles and always God is good and life is a gift and tears may come and rain may fall and flood our basements and breezes blow gently through the windows and we are all in this together.