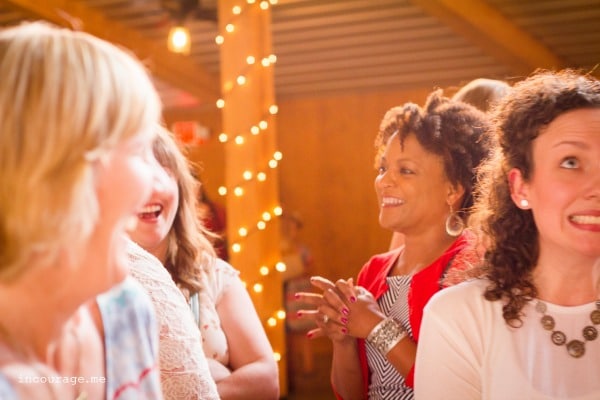 In 2008, when I started blogging, I thought I was simply taking up a hobby and creating a space to find my footing in a pretty yucky season of my life. If you're a blogger, or if you're a blog reader, you know how one click leads to another and, before you know it, you've met people you never would have known, were it not for the wonders of the Internet.
Who knew blogging would blow my world right open? Right away, I discovered people like Myquillyn Smith, Emily P. Freeman, Tsh Oxenreider, Holley Gerth, and Ann Voskamp. These ladies opened up my world and soon, I learned a new, collaborative website was being built with all of these women on the list of contributors. I made a vow to pray for them and for that site and, when Incourage launched in the fall of 2009, I was right there with them, cheering and clapping and cartwheeling from my family room in Lincoln, NE.
One day, about a month after Incourage launched, an email landed in my inbox, inviting me to write for Incourage. I nearly fell off my chair. And, I'm not saying that simply as a metaphor for how excited I was. I actually, nearly fell off my chair.
Incourage folded me in, expanded my horizons, and helped me find my voice. Of course, I didn't think I belonged at first. Some days, I still look around the beach house at Incourage and wonder to myself, "How in the world?!?!" These women have seen me through, people. And not just the women. The men who work behind the scenes at Incourage—men like Saul Robles, and DaySpring President James Barnett—give us roots and wings and the encouragement to fly.
Incourage has become a beautiful community, birthed from the hearts of Holley Gerth and Stephanie Bryant, and now wisely and gently shepherded by Lisa-Jo Baker. These women are my sisters and my friends. I can count on them, and I know it. And, if you've spent any time at the Incourage online beach house, you know it, too. Because Incourage isn't just about the monthly contributors. Incourage is about every person who reads a post or leaves a comment or follows or likes or shares. Incourage is about all of us, knowing there is a safe place to land on the Internet, when all the world seems to have lost its mind.
Today, Incourage is turning five, and—as is our custom—there's a party going on! Giveaways galore, and—right now, as I type this—a wall of blessings is going up in the comments over there. Will you join us? Will you raise a glass and celebrate the good work God has done through the ministry of Incourage? I'm headed over right now, and I'll save a place at the table for you.
All images by Sally Haukus, Incourage photographer extraordinaire.