Here's the thing about the blogging community: we get to know some really amazing people we may never have met, were it not for the Internet. I'm always amazed by the depth of community and the richness of relationship among bloggers. Even still, there are huge swaths of a person's life we just can't get to know from reading a blog or meeting up from time to time at conferences and retreats and writers' weekends.
Atlas Girl, a memoir, and Emily Wierenga's latest book is, as Emily herself might say, an open book—an intimate peek into the details of her life. This book is beautiful. In my opinion, it's Emily's voice that makes Atlas Girl so uniquely lyrical and compelling. Last year, Emily spoke at JumpingTandem: The Retreat, and we spent some time together in the car on our way from the airport to the retreat center—just Emily and me. In the car, driving down I-80 from Omaha to Ashland, I felt a swift connection to this beautiful woman and, after reading her memoir, I'm even more devoted to Emily, who has signed all her emails to me, simply, "e."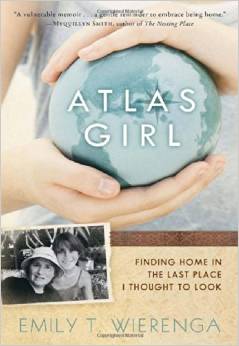 I received an advance copy of Atlas Girl, and then I got to sit down with Emily to talk about the writing of the book, the lessons learned from her journey, and her humble hopes for these words and the people who will read them.
All proceeds from sales of Atlas Girl will go to The Lulu Tree.
For the sake of trivia, my favorite words in Atlas Girl on are page 221. Have you read the book? Which words are your favorite, and on which page did you read them?