I initially met Alison right here at JumpingTandem. She started showing up in the comments and her vibe was always cheerful and positive with a certain "groundedness" that seemed to anchor her. Alison and I met in real life for the first time at—you guessed it—Laity Lodge.

Then, last week when I was in Washington, DC to speak at the Summit for Change conference, Alison met me at my hotel and we swung by the Cheesecake Factory for some late night catching up over beet salad and sangria. Alison is the (unofficial) Health Evangelist, and I drilled her for information about living a naturally healthy life (I came home and implemented many of Alison's recommendations right away). Lucky for all of us, Alison agreed to share some of her wisdom here.
Sometimes I think God uses me so others can benefit from my struggles. I've been through enough health challenges (fibrocystic disease, hysterectomy, upper respiratory infections, adrenal fatigue, depression, pityriasis rosea) that I've been forced to look beyond conventional medicine for cures for many ailments. I know what it's like to feel less than healthy for a prolonged period of time, so, here are my six tips for a naturally healthy you.
1. Get your Vitamin D and magnesium levels checked. Many conditions, including asthma, diabetes, cardiovascular disease, depression, fatigue, insomnia, and even certain cancers, are a result of diminished levels of both Vitamin D and magnesium. I recommend getting a magnesium RBC test and a vitamin D test to assess your current levels in order to correctly augment them both.
2. Get the toxins out. One of the best ways to detox is through the skin, and taking a bath in warm water and bentonite clay is an excellent means of pulling toxins out of the body. Even a simple 20-minute foot soak in warm water and bentonite clay can yield marvelous results, not just for the skin but for many internal organs. I try to incorporate a bentonite clay bath into my health regimen once a week.
3. Go green. Introduce more green fruits and veggies into your food world. I never thought I'd be an advocate for leafy greens like kale and spinach, but adding them to my smoothies has been a sure-fire way to ensure my food rainbow meets its green quota. Other green goodies worth a second look are green apples, kiwis, limes, avocados, cabbage, green grapes, cucumbers, celery, broccoli, asparagus, parsley, and cilantro.
4. Read your labels. My mantra is: if I can't pronounce it, why am I eating it/wearing it? Although we often pay attention to what we're ingesting, we're sometimes less well versed about what we put on our skin and on our hair. Our skin is our largest organ and a conduit to our blood stream. It absorbs the good (and bad!) products it encounters. The Environmental Working Group is a great source of information on the ingredients of skin and hair products and cosmetics. I'm a strong proponent of coloring hair with henna rather than artificial dyes, and for avoiding hair products with sulfates and silicones. Lotions and oils that feature Vitamin E, sweet almond, grapeseed, and shea butter are among my favorites.
5. Be adventurous. We often get into "food ruts" by relying on the same old foods and ingredients and not venturing into new food territory. Last week, I tried lychee for the first time and loved it! The outside didn't look too appealing, but I went for it still and found a new fruit favorite. Think of the foods that you've thought about trying but haven't as yet. Make a pact with yourself to try one new healthy food each week. You'll be surprised at how rich your recipe repertoire will become!
6. Crowd out the competition. Joshua Rosenthal, Director of the Institute for Integrative Nutrition, shares the concept of crowding out the bad foods in our lives by slowly introducing more of the good stuff. I think he's right on point! We often think we have to make a one-time clean sweep of our pantries and fridges in order to start anew. That might work for a few people, but for the rest of us? Not so much. Gently introduce new favorites and you'll slowly see your vices (fast food, fatty/salty/sugary treats) begin to disappear from your food landscape.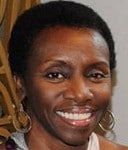 Alison is a blogger, writer, editor, and intercessor. She is also a music and book addict and social media junkie. Alison blogs about embracing life's struggles prayerfully, joyfully, and fiercely! Connect with Alison at her blog, on Facebook, and on Twitter.