Guess where I met Kristin? Yep. Laity Lodge. I'm telling you, Laity Lodge has been the site of some pretty spectacular meet-ups. I didn't know Kristin before this particular retreat at Laity Lodge, but we quickly hit it off, right there in the Great Lodge. Kristin is warm and gracious, and she oozes hospitality. In fact, Kristin will be one of the speakers next May at JumpingTandem: The Retreat! Today, she shares some really wonderful (and easy!) tips for creating significant, meaningful, and fun moments in your very own neighborhood, and with the people who live right on your very same street.
A few years ago I was stuck between the proverbial rock and a hard place. I had this big dream, this vision, of living in a community where neighbors knew and loved each other well.
Sadly, it wasn't happening.
Sure we knew a handful of our neighbors, but for the most part our interaction was limited to waves from cars, brief chats at the grocery store, and our annual Memorial Day block party. The block party is a highlight of the year, but twelve months is a long stretch of time between neighborhood get-togethers.
I wanted to know my neighbors better. Turns out my neighbors were feeling the same way. We didn't start a big program or try to force the issue, we simple opened our front doors and started looking for opportunities to get to know each other in a more meaningful way.
Slowly, but surely, we've become friends and neighbors in the community we were all dreaming about. Here are some ideas that have worked in our neighborhood:
1. Host a Lemonade Stand
What's more inviting than a good old-fashioned lemonade stand? Something about kids selling lemonade brings even the most reclusive neighbor out of hiding. If you don't have children at home invite your neighbor's children to join you. Bring out chairs and invite folks to stay for a while. Tell them you are hoping to get to know the neighbors better.
If you need inspiration on how powerful a simple lemonade stand can be, check out eight-year old Vivienne at makeastand.com.
2. Deliver Cookies
I've never met anyone who wasn't wooed by a homemade cookie. There's something magically nostalgic about a cookie—a single bite can take you back to the days of reaching deep into the cookie jar on your grandmother's kitchen counter.
These lemony shortbread treats spiked with a hint of rosemary will knock your neighbor's socks off. Whip up a big batch of Lemon Rosemary Shortbread Cookies (click the link for the recipe) and deliver them to your neighbors. Add a helpful tag to the cookies with your name, email, and phone number.
3. Be Summer Helpers
Rally the troops. Make a list of ways you and your family can help your neighbors—mowing lawns, making a supper, walking dogs, lending books, running errands. The list is endless. Make a simple flyer and share with your neighbors that your family would love to lend a hand.
4. Find a Way to Communicate
We started with a small a list of emails, but as our communication needs grew, our neighborhood created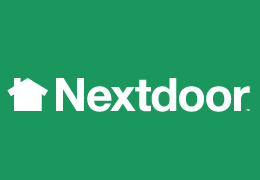 an account with nextdoor.com. Our neighbors chime in all the time with updates on serious matters like break-in reports and lost pets. We also share helpful information like recommendations for a reliable handyman and babysitters. We use a private Facebook group, but not all our neighbors are on social media. With nextdoor.com you can have updates sent directly to your email, which works great for all our neighbors.
5. Host Frequent, No-Stress Gatherings
Our neighborhood hosts a weekly, sometimes monthly, gathering on Friday nights. We call them Front Yard Fridays. There's no RSVP, no set menu—bring what's in your fridge, and most of all no stress. We pick a front yard, plop down our lawn chairs, set up a card table for food, and enjoy the evening. Front Yard Fridays are the highlight of our week! But, if you miss one – no worries, next Friday will roll around soon.
6. The Turquoise Table
Last year, I put a picnic table in my front yard under a grand old magnolia tree, just near the edge of our street. I painted the table bright blue (Sherwin Williams Nifty Turquoise) and started doing life outside—simple things like reading the mail and enjoying a salad for lunch. Before I knew it, neighbors were stopping to chat and even asking to join! The turquoise table has become like the old village well, a place for neighbors to meet and do life together. Consider putting a table, bench, or even a pair of lawn chairs in your front yard and see what happens!
I hope some of these ideas encourage you. Most of all, don't wait for perfect, just open your front door and walk out! Chime in and let us know what ideas you have for getting to know your neighbors.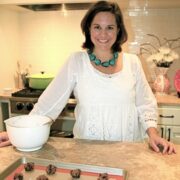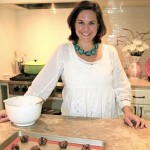 Deep in the heart of Texas, there's a big kitchen table where life not only happens, it overflows. Known for her outrageous hospitality, Kristin Schell cooks, teaches, and loves those who gather 'round her table. Kristin's kitchen table ministry, extends beyond real life and onto the pages of her online home www.kristinschell.com.
Wife to Tony and mama to their four Littles, Kristin juggles the every day blessings of life, mostly with a contagious smile. She is a writer, speaker, and avid fly-fisher. When she's not cooking, writing, or fishing, she is most likely carpooling. Follow Kristin on Twitter @theschellcafe.