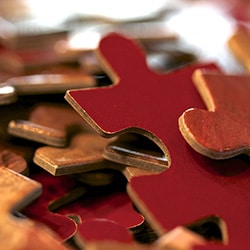 Yesterday, at (in)courage, I talked about being the parent of adult children. Research tells us* 59% of 18-29 year-olds raised in church are leaving the church and not looking back. With that in mind, I reasoned there must be more than a few parents of those 18-29 years-olds (the generation dubbed millennials or mosaics) who wonder what all this means. So, I wrote a little bit about what it's like to try and field the questions people ask about my son (who doesn't go to church) and the questions people don't ask about my daughter (who is very involved in the church).
In the process of writing that post, I spoke with both of my children, making sure they were okay with me sharing this part of our journey together. They both agreed, without hesitation. Even though I'm not quite sure I got my point across (the idea that it's probably best not to judge a book by its cover) the conversation in the comments helped me realize there are more than a few parents walking this road. At the end of the day, my son stepped in to the estrogen-filled comment box and stated his case. I could not have been more proud of him. Just after he posted his comment, he sent me a text saying, "I responded to your post. I hope that's okay." It was more than okay. You can read Jordan's response in the comments here.
Today, at The High Calling, I'm still talking about intergenerational relationships. This time, I'm looking at the different ways we learn, and how we learn from each other. From solitaire, to jigsaw puzzles, to brain-training apps on your smartphone; have you had similar experiences? Let's talk about it in the comments over there.
*affiliate link
Image by Cindee Snider Re.