The idea for "Going There" came about as a result of the 31 Days In My Brown Skin series I wrote in October, 2012. (You can read those posts here.) The series generated a lot of valuable dialogue, and when the thirty-one days were over, it felt as if the conversation wasn't done. So, I invite you to share your story as it relates to issues of race, ethnicity, and culture in your every day life.
The goal of "Going There" is to encourage ongoing dialogue about topics of race, ethnicity, and culture in a way that is thoughtful and that shows respect, with the goal of advancing our understanding of the beautiful diversity in the humanity that surrounds us. Interested in sharing your story? Start here. Today's post is written by Rochelle Wilson.
I am a huge fan of Lisa Jo Baker's Five Minute Fridays, an exercise in putting your thoughts together, and out there, in 5 minutes. The day before I wrote this, in blog-hopping, I read a testimony that wounded me deeply. It wasn't intended to, but it did. I didn't want to "go there" in writing this, but as it is sung in the old Negro spiritual: I just couldn't hold my peace. The following is a reprint:
I wonder if she considered the weight of her words. Just a few days ago I was reading the words of a woman like me. We write blogs. We profess our Christian faith. We acknowledge that we are flawed but forgiven. She is me. Then why did her words sting cut so deeply?
I have learned that it all matters. When I'm in a good mood. When I'm not. When I'm in worship (church). When I'm not (shouldn't we always be in worship?). I wonder if she measured the weight of her words.
I can't imagine she intended to cause harm. We seldom mean to cause harm, but words flung casually, without considering their weight, can wound deeply.
She told the story of someone redeemed, describing their before…this someone's before was black, before salvation or Grace, and for her, clearly black was not good.
I was always told that Black was beautiful, that I was beautiful. I wonder if she considered the weight of her words. I thought I was reading a woman like me. I wonder if she considered the weight of her words. I wonder.
Lord, please remind us that it all matters…
~~~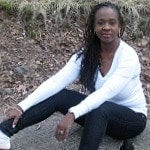 I am a former HR Exec turned SAHM, not entirely by choice. Blogging is my life lived forward, reviewed backward through the lens of faith. I'm a PK. I've been a Baptist church musician since I was five. Always a dancer and athlete, as an adult I turned to liturgical dance to deepen my personal worship. It worked.
I laugh a lot. Folks should laugh more-life is funny. God has a sense of humor, and sometimes I hear Him…giggling. My perspective at least in my writing, reflects something seldom heard in the community of faith, a skeptical, quirky, questioning but respectful reverence for God. It's who He created me to be so…it is who I am.
What matters?
· I married my first love and prom date nearly 20 years ago
· God gave us a mini-me and a mini-him
· Our boxer is the other love of my life, my confidante, therapist, and physical trainer
· I throw legendary parties and LOVE to entertain. I've set the table and said Grace, so join me at the table…Treat Me To A Feast: Notes From My Abundant Life.